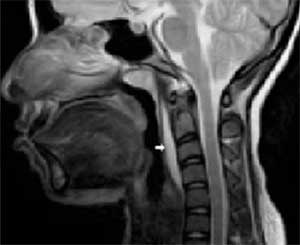 A rare case of Lemierre's syndrome,LS secondary to a retropharyngeal abscess in a pregnant lady with possible underlying connective tissue disorder has appeared in the Journal of Association of Physician's of India. The case has been reported by Dr Joe James and colleagues.
Lemierre's syndrome (LS) refers to suppurative thrombophlebitis of internal jugular vein (IJV) secondary to oropharyngeal infection. It is caused by the anaerobic bacteria Fusobacterium necrophorum. It occurs in teenagers
and young adult with a median age of 20 years. It is usually preceded by tonsillitis or pharyngitis and rarely dental infections, parotitis, otitis media or mastoiditis with secondary infection of the parapharyngeal space, which contains the deep vessels of the neck. 
A 19-year old primigravida at 6-weeks of gestation, presented with fever, cough, dyspnea, right-sided neck pain, and swelling. Imaging showed right lower lobe pneumonia with bilateral pulmonary infiltrates and pleural effusion. Ultrasound of the neck showed right IJV thrombosis. 

The MRI neck revealed a retropharyngeal abscess extending from C1 to C4 vertebral level. She had positive ANA, SS-A, and Ro-52 titres. She was treated with piperacillin-tazobactam, metronidazole, enoxaparin, and short course steroids. Even though she improved initially, fever recurred and she had massive hemoptysis with hemothorax and expired.
Carry Home Points-
The prognosis of LS is good even with septicemia, with mortality of approximately 5% to 18%, if treated with
appropriate antibiotics.
Even though the literature considers the prognosis of LS good and mortality occurring only with the delay in initiation of antibiotics or multiple metastatic abscesses, caution should be exercised to this generalization and especially during pregnancy as the predictors of fulminant course in this rare disease are yet unknown.
For more details click on the link: http://www.japi.org