Rare case of isolated congenital inter-costal pulmonary hernia: a report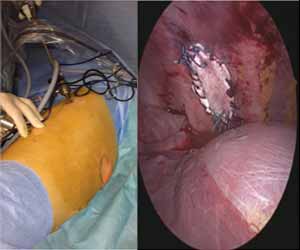 Dr Toussain Wendlamita Tapsoba at University Pediatric Hospital Charles de Gaulle, Ouagadougou, Burkina Faso and colleagues have reported a rare case of isolated congenital inter-costal pulmonary hernia. The case has appeared in the Journal of Medical Case Reports.
Intercostal lung herniation is a rare condition that may be congenital (20%) or acquired (80%). The isolated congenital form is exceptional, with one case reported in the literature.
This case report describes the case of a 10-year-old boy of Algeria origin living in Ile-de-France. Due to extremely painful thoracic swelling, the boy's parents brought him in September 2012 to our hospital. This small nodular swelling was apparent from birth and progressively increased in volume. The chest pain appeared when the boy was 10-years old and his parents consulted for a treatment request at the pediatric hospital Robert Debré. The boy failed to receive treatment prior to this. He had never experienced thoracic trauma and he did not possess any known prior medical pathology. He had no risk of exposure to toxins in his environment. Moreover, no similar case was noted in his family and there is no hereditary disease and no consanguinity between parents.
An initial clinical examination showed a well-developed child with no other physical abnormalities. His weight was 41.7 kg, blood pressure 85/140 mmHg, pulse rate 60 pulses/minute, respiratory rate 15 cycles/minute, and temperature 37 °C. His Glasgow Coma Score was 15/15. His cognitive functions were preserved. Sensitivity, motor skills, and osteotendinous reflexes were preserved in his limbs. There was no motor coordination disorder. There was no sphincter deficit. However, a clinical examination revealed a swelling of the right hemithorax (5 cm × 2.5 cm) on the midclavicular line and the fifth intercostal space. His respiratory movements caused the swelling to vary and enlarge with Valsalva maneuvers. Pulmonary and cardiovascular auscultation was normal. We diagnosed a congenital intercostal lung hernia based on the clinical information. A standard X-ray of his chest showed no anomaly for his lungs and thoracic wall. Laboratory findings showed hemogram, blood serum ionogram, serum creatinine, and liver function within the normal range. Given the symptoms, we determined a surgical treatment was most appropriate. Two thoracic and vascular speciality pediatric surgeons performed this with a right-sided chest thoracoscopy. Under general anesthesia, our patient was placed in a left lateral position and a 5 mm camera port was inserted in the sixth intercostal space on the posterior axillary line. Two working ports were also inserted: one in the sixth intercostal space behind the posterior axillary line and the second in the ninth intercostal space on the posterior axillary line.
The camera revealed an intercostal defect consisting of a muscular and aponeurotic aplasia of 4 cm × 2 cm, covered by the parietal pleura. A polytetrafluoroethylene (PTFE) mesh was inserted to close the defect without incising the hernial sac. Two semi-continuous sutures were performed with Mersuture 2/0. No complications occurred and a thoracic drain was placed for 48 hours. The repeated clinical and radiographic controls were normal after 1, 3, 6, and 12 months.
For more details click on the link:
h
ttps://doi.org/10.1186/s13256-019-2142-4