Rare case of Cutaneous pili migrans, a report
A rare case of Cutaneous pili migrans (CPM) was reported where a 35 years old man was presented with severe pain on his right heel later, upon diagnosis it was found to be a hair splinter which has penetrated his skin. The case report appeared in the Journal of Emergency Medicine.
The 35-year-old white, previously healthy man presented with an 8-h history of pain on the right heel that worsened while walking. There had been no prior foot or ankle injury. On physical examination, there was no abnormality (foreign body, swelling, or deformity) found. The patient was asked to walk on his tiptoes, and then on the heels, and he reported pain while walking on his right heel. On reevaluation, a hair seemingly attached to the right heel (Figure 1) was observed. Dermoscopy with a handheld dermatoscope showed a 5-mm hair (Figure 2) penetrating the skin. A hair measuring 10 mm (Figure 3) was removed with tweezers and pain relief was immediate.
Cutaneous pili migrans (CPM) is a rare condition in which one can observe the presence of a hair shaft or hair fragment embedded in the skin (1). A hair penetrates into the superficial layer of the stratum corneum and thence it can migrate due to foot movements in a creeping pattern resembling cutaneous larva migrans. CPM differs from cutaneous larva migrans by the black staining and linear migration of the hair and also by the absence of pruritus.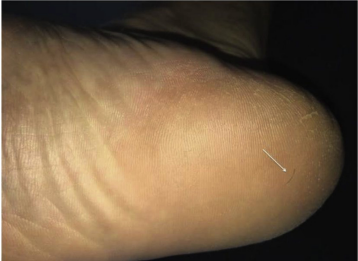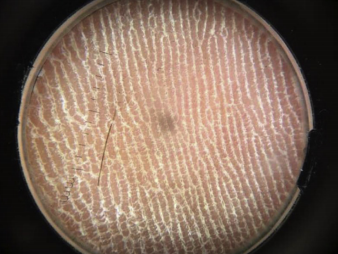 Usually, CPM is asymptomatic, however, sometimes it presents with mild pain. Differential diagnosis includes intradermal hair growth, which occurs more often in the area of the beard. The authors propose that the hair shaft had been trampled on by the patient's bare feet and become embedded obliquely in the superficial layer of the stratum corneum, stimulating the free nerve endings in the superficial dermis. Asian hair has a larger diameter and is circular in cross-section. It is firmer and straighter than African or Caucasian hair. This makes it easier for it to exist and extend within the skin, being the predominant type of hair in cutaneous pili migrans; this probably being a similar mechanism to that seen in ingrowing hair. The diagnosis is essentially clinical, and complete removal of the hair is required for cure. Physicians should be aware of this unusual foreign body reaction in patients with discomfort on the soles of the feet.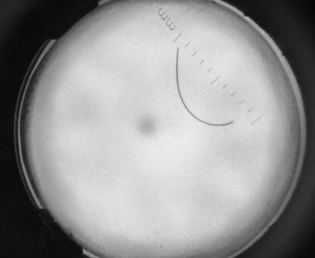 For more details, please click on the link: https://doi.org/10.1016/j.jemermed.2019.04.031