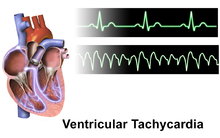 The drug ranolazine, commonly used to treat chest pain was found safe but didn't significantly decrease the likelihood of the first occurrence of ventricular arrhythmias including  ventricular tachycardia(VT), ventricular fibrillation(VF) or death in patients with implantable cardioverter defibrillators (ICDs), reports a study recently published in the JACC, the Journal of the American College of Cardiology.
Wojciech Zareba and his associates conducted a double-blind, placebo-controlled clinical trial to determine whether ranolazine administration decreases the likelihood of VT, VF, or death in patients with an ICD.
"This drug is already on the market to treat chest pain, and while it didn't provide the revolutionary results we had hoped for, I think there's a place for it in the toolbox of treatments for select patients," said Wojciech Zareba, M.D., Ph.D., lead study author and professor of Cardiology at the University of Rochester Medical Center. "Ventricular tachycardia is the most common arrhythmia that individuals with ICDs experience. This drug could be an option for patients who haven't had success with other therapies."
A total of 1012 patients participated in the trial out of which 510 participants were randomized to 1000 mg ranolazine twice daily and 502 to the placebo pill. The primary endpoint was VT or VF requiring appropriate ICD therapy or death, whichever occurred first. Pre-specified secondary endpoints included ICD shock for VT, VF, or death and recurrent VT or VF requiring ICD therapy.
Read Also:Head to Head-Stress Echo better than Coronary CTA for Chest Pain Triage
The study found that approximately 34 percent of patients who took ranolazine experienced ventricular tachycardia, ventricular fibrillation or death, compared to 39 percent of individuals in the placebo group. Though the number in the ranolazine group was lower, the difference between groups was not large enough to be considered "significant" or meaningful. Further analysis showed that the risk for recurrent ventricular tachycardia was 30 percent lower in patients randomized to receive ranolazine compared with placebo.
"Through this trial, we learned that ranalozine can be administered safely in patients with life-threatening abnormal heart rhythms and that it can be given concomitantly with other commonly used antiarrhythmic drugs," said Aktas, associate professor of Cardiology. "This trial provides clinicians with one more treatment option for patients who have recurrent lethal arrhythmias, which is huge given that this is a very sick population for which we often have limited therapies."
The study concluded that treatment with ranolazine in high-risk ICD patients did not significantly reduce the incidence of the primary composite outcome of VT, VF, or death.
For reference log on to10.1016/j.jacc.2018.04.086