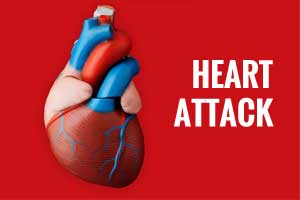 In a new Study, researchers have found that raised HbA1c levels increase the risk of heart attack in patients with a  Stable Angina. The study has appeared in the Journal of Clinical and Diagnostic Research.
Glycated Hemoglobin (HbA1c) levels are predictive of cardiovascular disease and mortality in patients with diabetes mellitus, however, an association of HbA1c with Coronary Artery Disease (CAD) in non-diabetics is inconsistent. It is an established marker of long-term glycemic control in patients with Diabetes Mellitus (DM), and elevated HbA1c levels are associated with an increased risk for further microvascular and macrovascular disease
Dr Ranjan K Shetty Professor, Department of Cardiology, Kasturba Medical College and Hospital, Manipal Academy of Higher Education,  Karnataka, India and colleagues conducted a study to determine the association between HbA1c and severity of CAD in patients with stable angina.
Glycosylated HaemoglobinA1c (HbA1c) is a time-integrated marker for glycaemic control which also helps in predicting the risk of Coronary Artery Disease (CAD) among diabetic patients.
In the study, a total of 144 patients with the positive cardiac stress test and stable angina who are undergoing a Coronary Angiogram (CAG) were enrolled. The patients were classified into three groups according to baseline HbA1c level (Normal group <5.6%; pre-diabetic group 5.7-6.4%; diabetic group >6.4%). One-way ANOVA test analysed baseline characteristics of the study population. The association between HbA1c level and the risk of CADs was calculated by Pearson correlation. A p-value of less than 0.05 considered being significant.
It was found that the subjects who were pre-diabetic had 1.77 times more odds of having CAD including heart attack than the patients who are normal. In addition to this, Patients who had diabetes had 3.13 times more odds of having CAD, heart attack than the patients who are normal. Higher HbA1c levels were associated with a higher incidence of heart attack and CAD.
The authors concluded that there was a significant association between raised baseline HbA1c levels and the occurrence of CAD/heart attack in patients with positive cardiac stress test/stable angina.
DOI: 10.7860/JCDR/2018/35654.11985