Radial Head Fracture - Standard Treatment Guidelines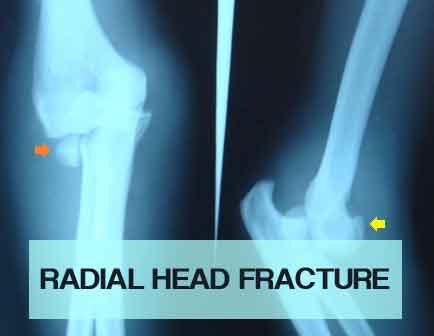 Radial head fractures account for almost 33% of fractures of the elbow region. Radial head plays an important role in providing smooth movements of forearm (Pronation and Supination) and the elbow joint (flexion and extension at radiocapitullar joint).
The Ministry of Health and Family Welfare has issued the Standard Treatment Guidelines Critical Care for Radial Head Fracture. Following are the major recommendations:
Classification :
Mason's classification- most widely followed
1- undisplaced or minimally displaced fracture. Displacement < 2mm
2- displaced fracture. Displacement > 2mm
3- communited fracture
4- fracture with dislocation of elbow
History :
Fall on an outstretched hand with a valgus strain.
Diagnosis :
A) Clinical Features -
-Pain and swelling over elbow region
-On examination- tenderness over the radial head with restriction of forearm and elbow movements
B) Imaging Techniques
– X-Ray - AP, Lateral, Oblique Views.
CT – rarely a CT and an MRI may be necessary to study the fragments and the stability of the joint
Management :
A. (Mason Type 1 ) Conservative Treatment - May be done if there is no restriction of range of motion with as above elbow plaster slab for 2 weeks.
B. Surgery -
1) In isolated radial head fractures treated with open reduction & internal fixation with screws. (Mason Type 2)
2) Prosthetic Replacement - Is used to prevent proximal migation of the radius. (Mason Type 3 & 4) even radial excision gives fairly good results.
3) Radial Head Excision - May be useful for older patients with complex isolated fractures. Level of excision is proximal to annular ligament through lateral kocher approach.
Complications :


Primarily related to improperly placed hardware or loss of fixation. Late excision of the radial head may be necessary after other soft tissues have healed.


Posterior interosseous nerve injury - treat with radial nerve splint. If it doesn't recover, Jones tendon transfer is to be done.


Elbow stiffness - loss of extension common. No massaging is to be done.


DRUJ instability.


Post traumatic arthritis.


Reflex sympathetic osteodystrophy.


MCL insufficiency & consequent elbow instability.


Essex - Lopresti lesion


Defined as longitudinal disruption of forearm interosseous ligament, usually combined with radial head fx and/or dislocation plus distal radioulnar joint injury


Difficult to diagnose


Treatment requires restoring stability of both elbow and DRUJ components of injury.


Radial head excision in this injury will result in disabling proximal migration of the radius.


When do you refer it to higher centre?
1. Essex Lopresti lesion
2. When the patient comes late
3. In Type 2 fractures when facilities are not available for fixation
Comments The common deficiency
(m) The writing style is not consistent. Radial head fracture is given as 33% of elbow region while distal radius as 1/6 of fracture (not known) of what?
(n) Imaging – just mentioned AP, Lateral and sometime oblique. Why and for what a particular special x-ray is needed?
(o) Complication has been clubbed as most common to least common, early or late in one list. This will not help.
(p) When to refer – Generally written type B & C to higher center. Can we make such guidelines in the issue.
The outcome of treatment depends on –
g) Training of the surgeon.
h) Infrastructure – operating theatre & available instrumentation
We need to define what all we should have in primary health center, secondary and tertiary care centre. If we refer all type B & C fracture for all fractures than how the patients in Village, Tehsil, District will be treated as we do not have any networking of referral centers (they are all concentrated in the cities. Summarily the objective of the guidelines should be well stated. Is it to stop small centers in cities to stop operating the particular type of fractures and force them to refer or to make a national policy for the overall effective management of the orthopaedic patients?
Guidelines by The Ministry of Health and Family Welfare :
Group Head Coordinates of Development Team Dr. P.K. DAVE, Rockland Hospital, New Delhi Dr. P.S. Maini, Fortis Jessa Ram Hospital, New Delhi
Guideline Reviewed By
Dr. V.K. Sharma, Professor Central Instiute of Orthopaedics, Safdarjung Hospital, New Delhi