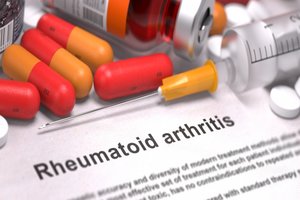 A new study published in Arthritis Care and Research has revealed that among patients who are cyclic citrullinated peptide(CCP) antibody positive, the risk for progression to rheumatoid arthritis(RA)increased substantially with increasing CCP level.
The cyclic citrullinated peptide is a circular peptide containing the amino acid citrulline. The CCP antibody test may be ordered along with or following a rheumatoid factor (RF) test to help diagnose rheumatoid arthritis (RA) and to assess the severity and probable course of the disease (prognosis).
Read Also: Rheumatoid arthritis leads to sexual dysfunction in females
Julia A. Ford and associates performed a retrospective cohort study to investigate the risk of progression to rheumatoid arthritis (RA) in patients who were cyclic citrullinated antibody positive (CCP+) without RA at initial presentation.
The study included CCP+ individuals seen at a US tertiary care system between 2009‐2018 who were without RA or another systemic rheumatic disease by medical record review at the time of CCP positivity.
The exclusion criteria included patients who had a diagnosis of RA, systemic lupus, mixed connective tissue disease, Sjogren's syndrome, systemic vasculitis, polymyalgia rheumatica, dermatomyositis, polymyositis or juvenile idiopathic arthritis at the time of CCP positivity.
"Previous studies have demonstrated the presence of RA-specific antibodies like cyclic citrullinated peptide antibody (CCP) in the serum several years prior to RA onset," said Julia A. Ford. "To date, much of what is known about CCP-positive individuals without classifiable RA comes from blood bank studies, studies of unaffected family members of patients with RA, and cohort studies of patients recruited from European arthralgia clinics," she added.
The researchers investigated the risk of progression to RA overall and stratified by CCP level (low: >1 to 2 times upper limit of normal [x ULN]; medium: >2 to 3x ULN; high: >3x ULN). The investigators identified 340 CCP+ patients who were without RA or other rheumatic diseases at baseline.
Read Also: New drug effective for treatment of rheumatoid arthritis-The Lancet
The authors found that during 1047 person‐years of follow‐up, 73 (21.5%) patients developed RA. Risk of progression to RA increased with CCP level, with 46.0% of high-level CCP patients progressing to RA by 5 years. Compared to low CCP, medium and high CCP levels were strongly associated with progression to RA, adjusting for age, sex, body mass index, smoking, family history of RA, and rheumatoid factor level.
The authors emphasized that the study provided further support for close monitoring for the development of RA among CCP+ patients and identifying strategies to mitigate this risk.
For full information log on to https://doi.org/10.1002/acr.23820