Quest for cure of High BP- Drugs to Renal Denervation and more- Dr. Kartikeya Kohli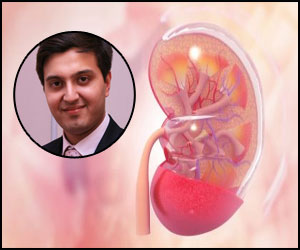 High Blood Pressure or Hypertension remains a major modifiable risk factor associated with cardiovascular morbidity and mortality. It is estimated to cause 7.5 million deaths, about 12.8% of the total of all deaths globally every year.
As the history of treatment goes -on the drug front, hexamethonium, hydralazine, and reserpine were used after World War II for lowering high blood pressure. Thiazide diuretics were introduced in late 50s for treatment of hypertension which was considered as an essential malady and not a treatable condition prior to that. British physician James Black developed beta-blockers in the early 1960s. Calcium blockers subsequently followed. The discovery of the renin-angiotensin system led to the development of angiotensin-converting enzyme inhibitors, which then led to angiotensin-receptor blockers and renin inhibitors.
But despite the availability of many safe and effective drugs, control of blood pressure remains unacceptably low. Half of the hypertensive patients become non-adherent in the first year after initiation of drug treatment, and about 20% are completely non-adherent. Drug resistance is another problem, affecting around 20% of hypertensive patients.
Faced with such challenges, the concept of device-based treatments like RDN was introduced. It involves ablating the sympathetic nerves in the renal arteries, overriding the body's regulation of vasoconstriction in these arteries and results in lowering of High Blood Pressure. The first generation trials proved that when we interfere with the renal sympathetic nervous system we are able to lower blood pressure in patients with hypertension.
A meta-analysis has been conducted recently that included only randomized, sham-controlled studies of renal sympathetic denervation for the treatment of hypertension. It showed that the procedure significantly reduced systolic and diastolic blood pressure but it did not, however, offer data on its long-term safety or efficacy.
The researchers noted that the reduction in BP was larger in second-generation trials like RADIANCE-HTN SOLO, SPYRAL HTN-OFF MED, and SYPRAL HTN-ON MED etc.compared to earlier trials like SYMPLICITY HTN-3 trial and single-centre Danish ReSET study.
The meta-analysis has been published in the Journal of the American College of Cardiology.
The meta-analysis included six trials with 977 patients — of whom 582 were randomly assigned to renal sympathetic denervation and 395 to a sham procedure. Four trials allowed continued use of stable optimal medical therapy in both treatment groups, and two trials included patients who had stopped antihypertensive medications for at least 3 to 4 weeks before randomization. Radiofrequency energy was used in five trials, and ultrasound was used for renal denervation in one trial.
The researchers found that-


There was a greater reduction in 24-hour ambulatory systolic BP in patients who received renal sympathetic denervation, as compared with a sham procedure.


The 24-hour ambulatory diastolic BP (weighted mean difference, –1.71 mm Hg; 95% CI, –3.06 to –0.35);daytime ambulatory systolic BP (weighted mean difference, –4.07 mm Hg; 95% CI, –6.46 to –1.68); and daytime ambulatory diastolic BP (weighted mean difference, –1.57 mm Hg; 95% CI, –2.73 to –0.42).
Ambulatory systolic BP and nighttime ambulatory diastolic BP, however, did not differ significantly between those treated with renal sympathetic denervation vs. sham.
The study researchers conclude that "[this] meta-analysis of 6 sham-controlled randomized controlled trials demonstrated statistically significant reductions in blood pressure with [renal sympathetic denervation] in patients with hypertension. These results should inform the design and powering of larger, pivotal trials to evaluate the long-term efficacy and safety of [renal sympathetic denervation] in patients with uncontrolled and resistant hypertension."
The invention of a minimally invasive catheter-based technology to selectively destroy the renal nerves using radiofrequency energy reignited interest in exploring Renal denervation as a therapy for hypertension in humans. This technique takes advantage of the location of the renal afferent and efferent nerves, embedded within the renal artery wall and directly adjacent to the wall of the renal artery, to destroy the nerves without damaging the arterial wall.
The Meta-analysis highlights the safety of catheter-based renal sympathetic denervation and attempts to show its efficacy with respect to greater BP reduction compared to the sham-controlled procedure.
Renal denervation is an intriguing and potentially cost-effective approach that may yield satisfactory results as a solo therapy or in conjunction with drugs for controlling High Blood Pressure on a long term basis. The experts are optimistic about the technology and hope to see greater reductions in blood pressure as the technology evolves and is applied to carefully selected patients.
It is undoubtedly an effective weapon in the armamentarium of a Cardiologist but certainly not the end. And the quest for a cure of High BP goes on...
For further reference log on to :
Author Dr.Kartikeya Kohli DNB (Medicine), MRCP, Fellow DNB(Nephrology) is a Consultant Physician and Nephrologist at Sanjeevan Hospital, New Delhi