Quarterly Canakinumab reduces risk for gout Flares-Trial Report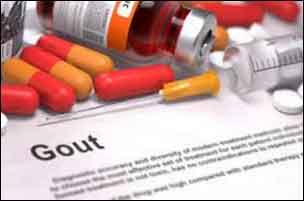 Quarterly administration of canakinumab is linked to a significant reduction in risk for gout attacks without any change in serum uric acid levels, according to the results of CANTOS trial published in the Annals of Internal Medicine.
"By looking across diseases, we're trying to put together a picture of the relationship between gout, cardiovascular disease, and inflammation," Daniel H. Solomon, the lead author of the study, said in a press release. "There's a long-held understanding that gout and cardiovascular disease travel together. We're using data from the CANTOS trial to understand why."
The trial evaluated the association between canakinumab, a monoclonal antibody targeting interleukin-1β; serum uric acid levels; and the incidence of gout attacks. Participants (10,059 with a prior myocardial infarction and a high-sensitivity C-reactive protein level ≥19.1nmol/L) were included in a randomized trial of canakinumab (50mg, 150mg, or 300mg) vs placebo, administered subcutaneously every 3 months.
Additionally, the researchers used Cox proportional hazards regression models to compare the rate of gout attacks among patients with varying baseline concentrations of SUA ( 404.5 mol/L, 404.6 mol/L to 535.3 mol/L, and 535.4 mol/L).
Read Also: NSAIDs vs Steroids for Acute Gout Pain
Key study findings:
The median baseline concentration of serum uric acid was 362.9 µmol/L and median follow-up was 3.7 years.


Among participants receiving placebo, incidence rates of gout attacks for serum uric acid concentrations of 404.5 µmol/L or lower, 404.6 to 535.3 µmol/L, and 535.4 µmol/L or higher were 0.28, 1.36, and 5.94, respectively, per 100 person-years.


Canakinumab did not affect serum uric acid levels over time yet significantly reduced rates of attacks at all baseline concentrations of serum uric acid.


Hazard ratios were 0.40 for concentrations of 404.5 µmol/L or lower, 0.48 for those between 404.6 and 535.3 µmol/L, and 0.45 for those of 535.4 µmol/L or higher.


Gout is a common and complex form of arthritis that can affect anyone. It is characterized by sudden, severe attacks of pain, swelling, redness, and tenderness in the joints, often the joint at the base of the big toe.
For reference log on to
http://annals.org/aim/article-abstract/2702477/relationship-interleukin-1-blockade-incident-gout-serum-uric-acid-levels
Source : With inputs from the journal Annals of Internal Medicine