................................ Advertisement ................................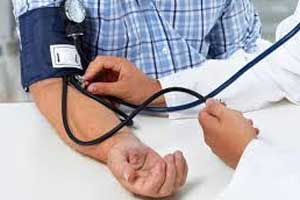 Pulse pressure predicts diabetic retinopathy than systolic blood pressure in diabetics, finds a new study. The study has been published in the Journal of the American Heart Association.
Diastolic blood pressure (DBP) is also important in addition to systolic blood pressure (SBP) for the prediction of severe diabetic retinopathy (DR) —  a major cause of vision loss and impaired quality of life in patients with diabetes mellitus, according to a recent study.
The study has found that pulse pressure (PP) — the difference between SBP and DBP — is a better predictor of severe diabetic retinopathy, DR in comparison to SBP. 
................................ Advertisement ................................
Evidence of the role of SBP in the development of severe diabetic retinopathy is not strong, although the adverse effect of low DBP has been a partial explanation. Masahiko Yamamoto, Department of Hematology, Endocrinology, and Metabolism, Niigata University, Faculty of Medicine, Niigata, Japan, and colleagues assessed the predictive ability of incident severe diabetic retinopathy between PP which considers both SBP and diastolic blood pressure, compared with SBP.
The researchers used data from a national health insurance claim-based database in Japan. It included more than 12,000 individuals with diabetes.
................................ Advertisement ................................
Also Read: AI instantly diagnoses diabetic retinopathy, saves sight
Key findings of the study include:
During a median follow-up of 4.8 years, 165 developed vision-threatening treatment-requiring diabetic eye diseases (i.e., severe diabetic retinopathy).
The risk factor most strongly associated with the incidence of severe diabetic retinopathy was hemoglobin A1c: each standard deviation (SD) increase was associated with a significant 2.2-fold increase in risk.
In contrast, an increase of one SD in PP was associated with a 39% increased risk of diabetic retinopathy, and each SD increase in systolic blood pressure was associated with a 22% risk increase.
In a model simultaneously adjusting for both systolic blood pressure and PP, only the hazard ratio associated with PP remained statistically significant.
Diastolic blood pressure and mean blood pressure were not significantly associated with the risk of developing severe diabetic retinopathy.
The overall accuracy for predicting the development of severe diabetic retinopathy (as determined by AUROC) was 80% for HbA1c, 58% for PP and 54% for systolic blood pressure.
Also Read: Midday nap reduces high blood pressure and need for BP drugs
"PP is not only more strongly associated with incident DR but is a stronger predictor of severe DR than SBP, suggesting the importance of DBP in addition to SBP and the difficulty of administering antihypertensive treatments for prevention of severe DR leading to vision loss given the current lack of any therapy that exclusively targets PP. However, priority should be given to monitoring HbA1c for identifying patients at high risk of severe DR," write the authors.
For detailed study follow the link: https://doi.org/10.1161/JAHA.118.010627
Medha Baranwal joined Medical Dialogues as an Editor in 2018 for Speciality Medical Dialogues. She covers several medical specialties including Cardiac Sciences, Dentistry, Diabetes and Endo, Diagnostics, ENT, Gastroenterology, Neurosciences, and Radiology. She has completed her Bachelors in Biomedical Sciences from DU and then pursued Masters in Biotechnology from Amity University. She has a working experience of 5 years in the field of medical research writing, scientific writing, content writing, and content management. She can be contacted at medha@medicaldialogues.in. Contact no. 011-43720751
To know about our editorial team click here