Pulmonologist's Perspective: Smarter Therapeutic Options to Address Severe Asthma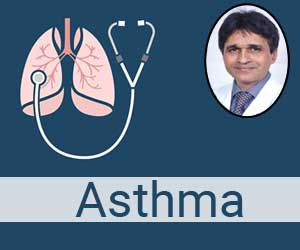 The worsening air quality index (AQI) in the Indian cities is leading to respiratory deaths on prolonged exposure. In 2018 alone, exposure to PM 2.5 pollutants killed at least 60,987 children under the age of five, reinstating "death by breath" as a major public health concern. While the dangerous air that we breathe has made asthma a common phenomenon, most patients still lack understanding of its progression to severe stages.
For instance, when a patient is diagnosed with symptoms of asthma such as dust and pollen followed by coughing and wheezing, s/he is usually advised to opt for drug-based inhalers (corticosteroids). But in cases where the patient stops responding to the high level of doses and medications, the condition has worsened to what we call as "severe asthma".
Conservative reports indicate the prevalence of severe asthma to be around 10% of the entire 30 million asthmatic patients in India. No longer limited by age and external factors like seasonal changes, severe asthma is an adult-onset type of asthma which is intrinsic in nature and requires immediate clinical attention.
In patients with severe asthma, the excessive inflammation of the airways makes the airway walls thicker contracting the airway smooth muscle leading to choking and breathlessness. Since the contraction of airway muscles cannot be reversed by the medicinal effects of corticosteroid inhalers alone, the patient needs advanced palliative care as they continue to be symptomatic despite maximal medical treatment.
Thanks to innovations in the field of pulmonology, we have smart therapeutic solutions like Bronchial Thermoplasty— a minimally invasive procedure to control the hypersensitivity to allergens.
Target Severe Asthma With Smarter Clinical Procedures
Although there is no permanent cure to the disease, timely clinical intervention, and adherence to the right treatment option can go a long way in curbing the symptoms of hypersensitivity. The important thing to understand here is— what is stalling thousands of patients from consulting a pulmonologist at the initial stages? Often, we blame environmental challenges to be the causative agent behind the soaring disease burden, but pulmonologists stress on the lack of awareness and taboo responsible for keeping patients away from minimizing the episodic exacerbations. In a recent, "Around 35% of the people chose to keep asthma a secret…"
With innovations in pulmonology allowing patients to improve their quality of life, it's time to understand the best possible treatment procedures for severe asthma. Upon recommendation to undergo a BT, the pulmonologist will insert a small flexible tube into the airway through a standard flexible bronchoscope placed through the mouth or the nose. It involves the delivery of radiofrequency energy to heat the airways in a controlled manner, with the goal of achieving a lasting reduction in airway smooth muscle mass and reducing bronchial hyperreactivity.
BT is a minimally invasive procedure and helps reduce the muscle subset to near normal size by almost 80%. The result is, the patients who are still advised to continue with inhalers will experience the enhanced effects of drugs. Along with improved airway passage, the surgery significantly reduces the ability of the airway wall to contract and narrow during an asthma attack, helping a patient manage their condition better.
Although BT is not an ultimate cure for severe asthma, it is still one of the most reliable options to improve the quality of life of patients. As a novel therapy, BT targets only the affected area. Unlike Inhaled Corticosteroid Therapy (ICT)which can reach other parts of the body, where it is not required, BT ensures optimal patient outcomes. With BT, a patient can experience fewer ER visits, reduced out-of-pocket-expenditure, and speedy recovery.
From dry cough to breathing problems; sore eyes to skin irritation, percolation of environmental challenges down to human health hazards needs a holistic solution. While measures such as wearing masks, avoiding active and passive smoking can help you prevent seasonal allergy, patients with persistent hypersensitivity to allergens should consult a pulmonologist immediately. Timely palliative care can be targeted more efficiently to improve patient outcomes.
Credit to patient-based therapies like Bronchial Thermoplasty (BT), severely asthmatic patients can now breathe easy. The need of the hour is to understand that if severe asthma has you struggling to breathe, Bronchial Thermoplasty can be a life-saver.
Dr Manoj K Goel is the Director of Pulmonology Department at Fortis Memorial Research Institute, Gurugram