Indian Psychiatrist develops virtual patients as teaching aid for medical students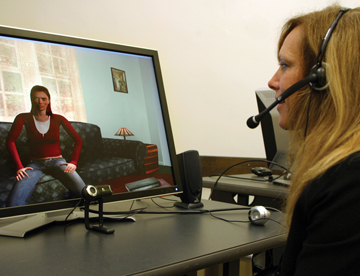 Visakhapatnam: Dr C Radhakant, professor of Psychiatry at Maharajah's Institute Of Medical Sciences, AP has developed an innovative teaching technique by creating virtual patients with the help of computer graphics. The tool is the first of its kind in psychiatry in India and uses computer graphics- based virtual patients suffering from mania and schizophrenia,.
The new tool that was featured as a research paper entitled 'Virtual Patients in Psychiatry - Mania and Schizophrenia' in the International Organization of Scientific Research (IOSR) Journal of Dental and Medical Sciences about a week ago, will be used for teaching medical students as well as training . PHC doctors under national mental health programmes.
Speaking about the creation of the virtual characters, Dr Radhakanth told the
TOI
, "It took me several weeks. Characters created on Poser software were imported into 3d studio max software and animated, created into scenes with backgrounds and merging videos, rendered with lighting. Variables into .avi files were then laid out on a video editor software and music track was added. The product is of DVD quality which can be seen on computer, TV or multimedia projector."
The term
virtual patient
is used to describe interactive computer simulations used in health care education.
The special focus is targeted on the simulation of clinical processes with virtual patients. Virtual patients combine scientific excellence, modern technologies and the innovative concept of game-based learning. The use of virtual patient programmes is increasing in healthcare, partly in response to increasing demands on health care professionals and education of students but also because they allow opportunity for students to practice in a safe environment
.
There are many different formats a virtual patient may take. However the overarching principle is that of interactivity - a virtual patient will have mechanisms for the learner to interact with the case and material or information is made available to the learner as they complete a range of learning activities.
Simulated patients increase the availability of training opportunities for medical students, making them less dependent on actual cases to learn how to handle different situations. Unlike real patients, simulated patients can be accessed on demand and they can be endlessly replayable to allow the user to explore different options and strategies. They can be structured with narratives that represent real situations while challenging the user with a wide range of tasks. They also allow simulation of rare or unusual events, and reduce risk to actual patients in the process.
"The study aims to study the feasibility of using computer graphics-based virtual patients as a teaching tool for medical students posted to psychiatry, to evaluate the duration of exposure to basics of psychiatry theory before exposure to virtual patients and to assess the predominantly visual models vis a vis the heavily verbalized mode of psychiatric diagnostic procedures," said Dr Radhakanth.
You can read the complete article by clicking on the following link
Source : With inputs