................................ Advertisement ................................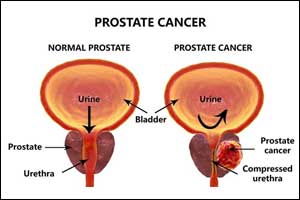 Prostate-specific membrane antigen (PSMA) imaging can detect recurrent prostate cancer more efficiently than standard fluciclovine positron emission- computed tomography (PET-CT)  scans,finds a Lancet study. The test is recommended by the European Association of Urology guidelines for the detection of recurrent prostate cancer.
Patients after a prostate cancer surgery are usually recommended going for a blood test which detects the presence of prostate-specific antigen that determines the recurrence of prostate cancer. But, where exactly the recurrence has taken place cannot be determined with this test. Therefore, fluciclovine positron emission tomography, or Axumin PET/CT, is currently the standard of care in the United States for finding the location of the prostate cancer recurrence recommended by the National Comprehensive Cancer Network guidelines.
In 2019, the European Association of Urology recommended prostate-specific membrane antigen (PSMA)test for the detection of recurrent prostate cancer. The test is under investigation and has not been approved by the US Food and Drug Administration (FDA).
................................ Advertisement ................................
Researchers from the UCLA Jonsson Comprehensive Cancer Center undertook a head-to-head comparison of these two imaging techniques and have concluded that prostate-specific membrane antigen imaging is more effective in detecting the location of the prostate cancer recurrence.
Patients older than 18 years of age with prostate cancer biochemical recurrence after radical prostatectomy and PSA levels ranging from 0·2 to 2·0 ng/mL without any prior salvage therapy and with a Karnofsky performance status of at least 50 were eligible. Patients underwent 18F-fluciclovine (reference test) and PSMA (index test) PET-CT scans within 15 days.
The detection rate of biochemical recurrence at the patient level and by anatomical region was the primary endpoint. A statistical power analysis demonstrated that a sample size of 50 patients was needed to show a 22% difference in detection rates in favor of PSMA (test for superiority). Each PET scan was interpreted by three independent masked readers and a consensus majority interpretation was generated (twovs one) to determine positive findings.
Key findings
Between Feb 26, 2018, and Sept 20, 2018, 143 patients were screened for eligibility, of whom 50 patients were enrolled into the study.
The primary endpoint was met; detection rates were significantly lower with 18F-fluciclovine PET-CT than with PSMA PET-CT.
"With higher detection rates, PSMA should be the PET tracer of choice when PET-CT imaging is considered for subsequent treatment management decisions in patients with prostate cancer and biochemical recurrence after radical prostatectomy and low PSA concentrations (≤2·0 ng/mL). Further research is needed to investigate whether higher detection rates translate into improved oncological outcomes." the authors concluded.
For further reference, click on the link
DOI:https://doi.org/10.1016/S1470-2045(19)30415-2
Deepanjana Sarkar joined Medical Dialogues as a Desk Editor in 2019 for Speciality Medical Dialogues. She has been working as a medical content writer from 2 years and has covered several medical specialties including Cardiac Sciences, Dentistry, Diabetes and Endo, Diagnostics, ENT, Gastroenterology, Oncology, and Radiology. She has completed her Master's in Technology (M.Tech) in biotechnology from Kalinga Institute of Industrial Technology, Bhubaneswar. She can be contacted at deepanjana@medicaldialogues.in. Contact no. 011-43720751
................................ Advertisement ................................