Proton Pump Inhibitors : Complications and Emerging Concerns of use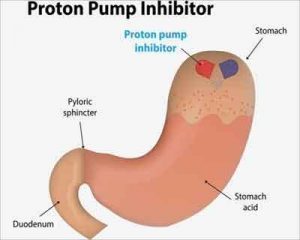 Dr.Avinash K. Nehra and associates in a review article published in Mayo Clinic Proceedings by title Proton Pump Inhibitors: Review of Emerging Concerns have outlined various deficiencies and diseases associated with long-term use of PPI. Proton pump inhibitors (PPIs) are among the most widely utilized medications worldwide, both in the ambulatory and inpatient clinical settings.Safety issues associated with proton pump inhibitors (PPIs) have recently attracted widespread media and lay attention and Gastroenterologists are frequently asked about the appropriateness of PPI therapy for specific patients.
The authors have enumerated diseases in which association is likely causative ,in which association is unclear and in which association unlikely Causative and detailed them.
FDA approved indications of PPI use and which are-


Healing of erosive esophagitis


Maintenance of healed erosive esophagitis


Treatment of GERD


Risk reduction for gastric ulcer associated with NSAIDs


Helicobacter pylori eradication to reduce the risk of duodenal ulcer recurrence in combination with antibiotics


Hypersecretory conditions including Zollinger-Ellison syndrome


Short-term and maintenance treatment of duodenal ulcer


Long-term use of PPIs have been associated with a number of diseases which are-
1.
Association Likely Causative
1.Hypomagnesemia
2.Vitamin B12 Deficiency
3.Small Intestine Bacterial Overgrowth
2.
Association Unclear
1.Bone Fractures
2.Clostridium difficile Infection
3.Acute and Chronic Kidney Disease
4.Dementia
3.
Association Unlikely Causative
1.Community-acquired pneumonia (CAP)
2.Mortality
PPIs inhibit gastric acid secretion, and the most commonly associated adverse effects include abdominal pain, diarrhea, and headache. Although PPIs have had an encouraging safety profile, recent studies regarding the long-term use of PPI medications have noted potential adverse effects, including risk of fractures, pneumonia, Clostridium difficile diarrhea, hypomagnesemia, vitamin B12 deficiency, chronic kidney disease, and dementia. These emerging data have led to subsequent investigations to assess these potential risks in patients receiving long-term PPI therapy. However, most of the published evidence is inadequate to establish a definite association between PPI use and the risk for development of serious adverse effects. Hence, when clinically indicated, PPIs can be prescribed at the lowest effective dose for symptom control.
For further reference log on
to :
DOI:
https://doi.org/10.1016/j.mayocp.2017.10.022