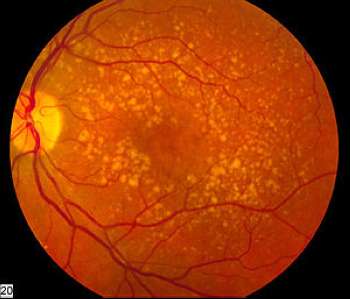 A new study has found that there is an increase in the risk of late Age-related macular degeneration(AMD) with Prolonged use of Anticholinergic drugs, ACDs.
Age-related macular degeneration (AMD) is the most common cause of irreversible vision loss in the elderly. Amyloid-beta, a major extracellular deposit in Alzheimer's disease plaques, has recently been found in drusen, the extracellular deposit in AMD. Age-related macular degeneration occurs when a part of the retina called the macula is damaged and the central vision is lost.
Aldebert G and his associates conducted the study to investigate the association between exposure to ACDs and late Age-related macular degeneration (features of neovascular Age-related macular degeneration or geographic atrophy of the retinal pigment epithelium in at least 1 eye). Anticholinergic drugs competitively inhibit binding of the neurotransmitters, acetylcholine. They target either muscarinic acetylcholine receptors or, less commonly, nicotinic acetylcholine receptor.
The researchers conducted a multicenter case-control study in 4 French ophthalmologic centers comprising 200 cases with late Age-related macular degeneration and 200 controls enrolled from July 2016 to June 2017.
During the study exposure to at least 3 months of ACDs started before Age-related macular degeneration diagnosis was recorded during a specific interview. A dose-effect association with cumulative exposure duration and Anticholinergic Burden Score was explored. The association between ACD exposure and AMD was assessed by multivariate logistic regression analysis adjusted for age, sex, smoking status, family history of AMD, alcohol consumption, and use of anticoagulant and anti-inflammatory drugs.
The study found that there is an increase in the risk of late AMD with at least 3 months' use of ACDs. The study marked an increased risk of AMD with ever exposure to ACDs, high Anticholinergic Burden Score, and longest cumulative exposure to ACD, suggesting a dose-effect association between them.
For more reference log on to
https://jamanetwork.com/journals/jamaophthalmology/article-abstract/2681468