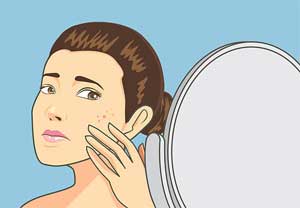 According to a new study appearing in JAMA Dermatology, the systemic antibiotic treatment of acne was associated with changes in the composition and diversity of skin microbiota, some of which persisted and weren't necessarily healthy. Therefore prolonged antibiotic therapy for acne may give rise to opportunistic skin infections, such as gram-negative folliculitis.
Acne vulgaris is a common disease of the pilosebaceous unit characterized by the release of inflammatory mediators, hyperkeratinization, increased production of sebum, and colonization by Propionibacterium acnes, recently reclassified as Cutibacterium acnes. The tetracycline group of antibiotics, including doxycycline and minocycline, often serves as first-line therapy for moderate to severe acne because of these agents' anti-inflammatory and antimicrobial properties. Usually, the antibiotic treatment period always exceeds the guidelines recommended duration of 3 to 4 months.
Anna L. at Department of Dermatology, Johns Hopkins School of Medicine, Baltimore, Maryland and associates conducted a study to ascertain whether an association exists between systemic antibiotic treatment and its withdrawal and changes in skin microbiota in individuals with acne or not.
................................ Advertisement ................................
In the study as a pilot investigation, Garza and colleagues recruited  four patients in Maryland, who included two white women, one Asian American and one African American. They presented with inflammatory and comedonal acne on the face and reported no recent use of topical or systemic therapy for acne such as retinoids or antibiotics.
................................ Advertisement ................................
Patients were prescribed 100 mg of oral minocycline to take twice daily for 4 weeks. The skin on the forehead, cheek, and chin were sampled for 165 ribosomal RNA gene sequencing at baseline, 4 weeks after starting the antibiotic therapy, and then 1 week and 8 weeks after treatment ended. After 8 weeks of antibiotic treatment withdrawal, C acnes levels recovered, while Streptococcus species significantly increased and Lactobacillus species significantly decreased from baseline.
Relative abundance of Cutibacterium acnes decreased 1.4-fold with 4 weeks of minocycline therapy (difference -10.3%, 95% CI −19.9% to −0.7%; P=0.04) in the four participants, women age 25-35. But other bacteria increased, including a transient 5.6-fold rise in the relative abundance of Pseudomonas species. And, in the eight weeks following antibiotic therapy withdrawal, there was a 4.7-fold decline in the relative abundance of Lactobacillus species as well as a 1.7-fold increase in the relative abundance of Streptococcus species, the researchers reported. The abundance of C. acres partially rebounded as well after minocycline was stopped, such that it was no longer statistically lower than at baseline.
"Given the widespread use of systemic antibiotics for acne, it is important to understand their effects not only on C. acnes but also on the complete bacterial community of the skin," they wrote. "Understanding the associations between antibiotics and skin microbiota may help clinicians decrease the likelihood of skin comorbidities related to microbial dysbiosis."
"The use of larger sample size and longer duration of antibiotic treatment would enable better characterization of changes in inflamed lesion count and α diversity, which may respond differently to antibiotic treatment depending on acne severity at baseline," they wrote. "Longitudinal data of negative control participants receiving no antibiotic treatment, which we did not collect in the present study, would also enable more accurate characterization of the changes in skin microbiota associated with antibiotic treatment."
For further reference log on to :
doi:10.1001/jamadermatol.2018.5221
Hina Zahid Joined Medical Dialogue in 2017 with a passion to work as a Reporter. She coordinates with various national and international journals and association and covers all the stories related to Medical guidelines, Medical Journals, rare medical surgeries as well as all the updates in the medical field. Email: hina@medicaldialogues.in. Contact no. 011-43720751
To know about our editorial team click here