Processed meat intake associated with increased COPD risk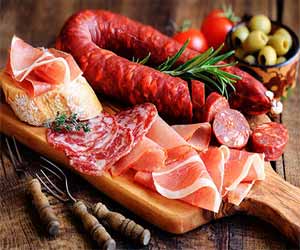 Delhi: Middle-aged women who consume high amounts of processed meat are at higher risk of developing the chronic obstructive pulmonary disease (COPD), according to a recent study published in Lancet journal EClinicalMedicine.
COPD, a chronic inflammatory lung disease, is the fourth leading cause of death in the world and is projected to become the third in 2020. Approx 3 million people die of COPD globally each year.
Smoking was considered to be the leading cause of COPD. However, half of the smokers do not develop COPD, indicating the role of other factors in its development. Despite this little attention has been paid to diet in the primary prevention of COPD, and how interrelationships between protective and/or deleterious dietary factors with smoking might contribute to COPD risk.
In a new international study by Raphaëlle Varraso, Université Versailles St-Quentin-en-Yvelines, France, and colleagues aimed to determine whether the intake of processed meat increases COPD risk among middle-aged women and assess the combined intake of an unhealthy diet, smoking, and high processed meat intake.
The study assessed 87,000-plus registrant Nurses' Health Study II data. Over 2,296,894 person-years (1991–2017) 634 incident cases of COPD were documented. Cumulative average of processed meat intake (every 4 years) was divided into never/almost never, <1 or ≥ 1 servings/week.
Key findings of the study include:


After careful adjustment for smoking and unhealthy diet, a positive association was observed between processed meat intake and the risk of COPD: Hazard Ratio (HR, 95%CI) for ≥1 servings/week vs. never/almost never = 1.29 (1.00–1.65).


In analyses stratified according to smoking or unhealthy diet, processed meat intake was associated with increased risk of COPD only among ever smokers, and among women with an unhealthy diet.


The multivariable-adjusted HR for COPD in participants with all 3 high-risk lifestyle factors compared with none was 6.32.


"To our knowledge, only one cross-sectional study has assessed the modifying effects of antioxidant and oxidant intake in the association between processed meat and lung function, but without including the combined effect of unhealthy/healthy diet and smoking," noted the authors.
"In addition to the antioxidant/anti-inflammatory hypothesis in the diet-COPD association, it is reasonable to posit that an imbalance in the gut microbiome caused by changes in the diet over the last decades, may lead to the development of COPD," they wrote. "Tobacco smoke is another source of nitrites as well as oxidants."
"Processed meat intake is associated with increased COPD risk, especially in the presence of other high-risk lifestyle factors (smoking, unhealthy diet). There is a need fo the clinicians to assess dietary interventions as part of their approach to promoting proper lung health," they concluded.
Source : Press Release