Prevention of Hospital Acquired Infection- GOI Guidelines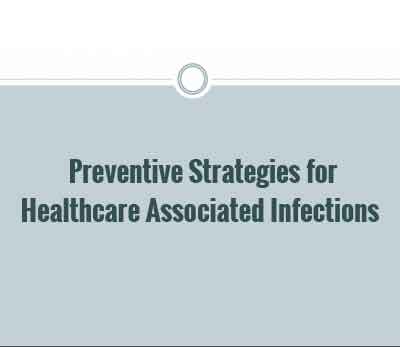 In 2016 National Centre For Disease Control, Directorate General of Health Services, Ministry of Health & Family Welfare, Government of India came out with National Treatment Guidelines for Antimicrobial Use in Infectious Diseases.
Healthcare Associated Infections
Health Care Associated Infections or HCAI are a worldwide phenomenon. HCAI have been defined variously at different times and by different organizations. Current definitions incorporate infections which were neither incubating nor did they manifest or present, during the period of admission in patients admitted in the hospital but were present on or after the 3rd calendar day of admission, (the day of hospital admission being calendar day 1).
Reducing the risk of Health care associated infections
Development of an effective Infection Prevention and Control Program
Infection Prevention and Control Programs are directed towards patient safety and health care professionals' safety. Reducing the preventable part of health care associated infections (HCAI) is central to any Infection Control program. An effective Infection Prevention and Control Program would have the following components:


Infection Control Committee with its defined role and constituents.


Infection Control Core Team for day to day working with defined roles.


Infection Control Manual with policies, guidelines, recommendations and working protocols including activities and practices under the program with Hand hygiene and Standard Precautions being the mainstay.


Annual Plan for each healthcare setup with prioritization based on risk matrix for that unit and review.


Should incorporate Antimicrobial Stewardship programs.


Hand-hygieneand Standard Precautions'
Health care workers and professionals anywhere and at all levels should be well oriented to concepts of hand hygiene. Practicing 'Standard Precautions', prevents direct contact with all body fluids (including blood), secretions, excretions, nonintact skin (including rashes), and mucous membranes. Hand hygiene in the form of tap, sink and appropriate antiseptic/ rubs for washing or hand-rub or surgical scrub should be facilitated. Atleast hand rubs should be available in all patient care areas including patient's bed side or easily available within vicinity.
Indications for hand washing and hand antisepsis should be made known amongst all engaged in providing patient care. Protocols and procedures of any area should always include hand hygiene as applicable and these should be mandatory step.
Antimicrobial Stewardship Program
Antimicrobial Stewardship Program shall form another main focus of the Infection Prevention and Control Program. This shall include all components of antimicrobial stewardship so as to stress upon advocacy of safe use of antimicrobials, which shall be strengthened, with periodic review of antimicrobial guidelines and implementation locally in each of the health care setups.
Educational Programs and Strategies
Appropriate educational material should be made available to all. These shall be based upon recent evidences and part of relevant national and international guidelines and appropriately indigenized for effective implementation. This would be augmented by periodic CME or educational interactive programs and awareness drives. Local Health care setup should provide antimicrobial susceptibility patterns, appropriate usage of antimicrobials and have updates on antimicrobials communicated to all relevant personnel in patient care, locally and periodically. Specific infectious diseases and their prevention and control awareness should be made available as and when required to relevant staff locally and may be extended to community if so desired by the health departments of that district/city/area.
NotificationAll
relevant information as required by law on communicable diseases would be notified as appropriate to relevant authority. Incase of specific reports from public health agencies requiring action on their recommendations, appropriate action should be taken.
Prophylaxis including Immunization
Staff should be immunized against diseases, which have risk of transmission through exposure from patients and to limit transmission of diseases from healthcare workers to patients. Immunisation in high-risk group may be required for influenza, meningococcal infections among exposure prone healthcare workers in outbreak situations, hepatitis B vaccination for all staff, varicella vaccine to high-risk group etc. Among the diseases that have potential of being transmitted from healthcare workers to patients typhoid vaccine should be included among the food handling staff. Immunise all health care workers and others involved in handling of bio-medical waste for protection against diseases including Hepatitis B and Tetanus that are likely to be transmitted by handling of bio-medical waste. All the under trainee staff including medical and nursing students should be immunized for potential occupational risk exposures (e.g. hepatitis B vaccination to the students).