Prevention of Catheter Associated UTI in Hospitals - Guidelines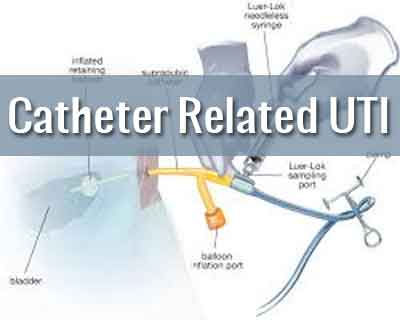 Urinary tract infections (UTIs) are one of the commonest types of HCAIs. One of the common reasons of UTI have been identified to be the use of urinary catheters. It is hence important for a practitioner to know the indications for Catheterization as well as precautions that one needs to take Prevent Catheter-associated UTI
National Centre for Disease Control, Government of India has come out with the Hospital Infection Prevention and Control Guidelines. Following are its major recommendations related to Catheter-related UTI
Indications for Catheterization-
Placement of an indwelling catheter should be performed only when indicated. It should be removed as soon as possible.
The accepted indications for catheterization are:


Patient requiring prolonged immobilization, such as in the setting of unstable lumbar/thoracic spine injuries, or multiple traumatic injuries including pelvic fracture For short-term (days) management of incontinence (the inability to control urination) needed to assist in healing of sacral or perineal wounds or for retention (the inability to pass urine) not helped by other methods.


To measure urine output over several days in critically ill patients




For treatment of bladder outlet obstruction


For post-operative management of surgical patients withimpaired bladder function.


Recommendations to Prevent Catheter-associated UTI-


Personnel-Only persons who know the correct technique of aseptic insertion and maintenance of the catheter should handle catheters.


Catheter Use-Urinary catheters should be inserted only when necessary and left in place only for as long as it is required. They should not be used solely for the convenience of patient-care personnel.For selected patients, other methods of urinary drainage such as condom catheter drainage, suprapubic catheterization, and intermittent urethral catheterization may be more appropriate.


Hand hygiene-Hand hygiene should be done immediately before and after any manipulation of the catheter site or apparatus.


Catheter Insertion- Catheters should be inserted using aseptic technique and sterile equipment.Gloves, drapes, sponges, an appropriate antiseptic solution for peri-urethral cleaning, and a single-use packet of lubricant jelly should be used for insertion.As small a catheter as possible, consistent with good drainage, should be used to minimize bladder neck and urethral trauma. Indwelling catheters should be properly secured after insertion to prevent movement and urethral traction.




5. Closed Sterile Drainage The catheter collection system should remain closed and not be opened unless absolutely necessary for diagnostic or therapeutic reasons eg irrigation.If breaks in aseptic technique, disconnection, or leakage occur, the catheter and collecting system should be replaced using aseptic technique and sterile equipment.




Irrigation- Continuous irrigation should be avoided unless indicated (e.g. after prostatic or bladder surgery).
Continuous irrigation of the bladder with antimicrobials has not proven to be useful and should not be performed as a routine infection prevention measure.


Specimen Collection- If small volumes of fresh urine are needed for examination, the distal end of the catheter, or preferably the sampling port if present, should be cleansed with a disinfectant, and urine then aspirated with a sterile needle and syringe.Larger volumes of urine for special analysis should be obtained aseptically from the drainage bag.


Urinary Flow- Unobstructed flow should be maintained.The catheter and collecting tube should be kept free from kinking. Collecting bags should always be kept below the level of the bladder. Do not rest the collecting bag on the floor.


Meatal Care- Cleansing of the meatal surface during daily bathing or showering is appropriate.







Catheter Change Interval-Indwelling catheters should not be changed at arbitrary fixed intervals.




You can read the full guidelines by clicking on the following link


http://www.ncdc.gov.in/writereaddata/mainlinkfile/File571.pdf