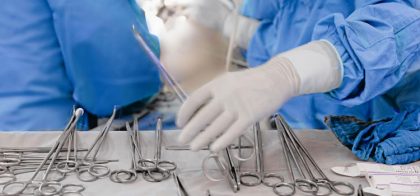 The human and financial costs of treating surgical site infections (SSIs) are increasing. It is estimated that approximately half of SSIs are deemed preventable using evidence-based strategies.
In 2017,  Centers for Disease Control and Prevention has come out with guidelines on preventing surgical site infections.
The said guidelines have been framed on the basis  of  review of literature published in between 1998 to 2014   after assessment, evaluation and gradation of the observations and shall go a long way in   reducing the risk of surgical site infections and therefore must  be included into surgical practice for enhancing the safety of patients.
The guidelines have been grouped  on the basis of  the quality of evidence that supports a particular method of care or precaution to avoid surgical site infection,.
Following are its major recommendations:-
Strongly recommended    [Category I guidelines with high to moderate quality of evidence supported by appropriate clinical trials]
The patient has to be administered a preoperative antimicrobial agent at a scheduled time such that the possibility of infection is minimized at the surgical site.
Before cesarean deliveries, an appropriate antimicrobial agent should be applied on the skin before the skin incision.
Perioperative glycemic levels: The blood glucose levels should be less than 200mg/DL and maintained so before and during the surgery for both diabetic and non-diabetic patients.
Patient undergoing surgery should be suggested to take a shower or bath a night before surgery with soap (antimicrobial or nonantimicrobial) or an antiseptic.
Alcohol based antiseptic should be used to prepare the skin before surgery unless it is contraindicated.
Weakly recommended    [Category II guidelines with evidence from the clinical trials that could not conclude the benefits or harm of the precaution involved]
o    Autologous platelet rich plasma application
o    Use of triclosan coated sutures
o    Application of microbial sealant during skin preparation for surgery
o    Usage of aqueous idophor solution in contaminated abdominal procedures
   No recommendations     [Category of unresolved issues which have a low to very low quality of evidence ]
Re-dose of parenteral prophylactic antimicrobial agent during the surgery
Soaking the prosthetic devices used for implantation in antimicrobial agents
Applying antimicrobial dressing in the operating room to the primary closure after surgical incision
Optimal range of hemoglobin required in patients with or without diabetes
Mode of delivery, timing or duration of medication to optimize the blood glucose levels
Administering increased fraction of inspired oxygen through a face mask for patients with normal pulmonary function
Duration of shower or the number of antiseptic applications to be used or use of chlorhexidine gluconate washed clothes for the prevention of SSI
To read the guideline, Click on the following link
http://jamanetwork.com/journals/jamasurgery/fullarticle/2623725
References
Sandra I. Berríos-Torres, MD; Craig A. Umscheid, MD, MSCE et al., Centers for Disease Control and Prevention Guideline for the Prevention of Surgical Site Infection, 2017 JAMA Surg.
Brian Zimmerman, CDC issues new prevention guidelines for surgical site infections: 5 things to know. Beker's Infection control & clinical quality, 2017
Pamela A. Lipsett, MD, Surgical site infection prevention- What we know and what we do not know, JAMA Surg. 2017
The following two tabs change content below.
Anjali Nimesh
Anjali Nimesh Joined Medical Dialogue as Reporter in 2016. she covers all the medical specialty news in different medical categories. She also covers the Medical guidelines, Medical Journals, rare medical surgeries as well as all the updates in medical filed. She is a graduate from Dr. Bhimrao Ambedkar University. She can be contacted at editorial@medicaldialogues.in Contact no. 011-43720751
Latest posts by Anjali Nimesh (see all)