Preoperative fasting, Postoperative feeding in pediatric anesthesia- Major Takeaways from guidelines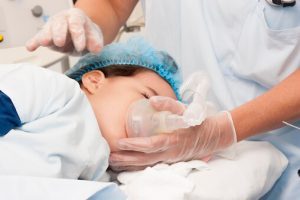 Preoperative fasting and postoperative feeding in anaesthesia are important pointing to be considered as a safety precaution to avoid pulmonary aspiration of gastric contents and to ensure smooth recovery of the patient. But, its proper implementation is complicated in the case of pediatric patients. A team of Indian anaesthesiologists, upon reviewing the international evidence have come up with major takeaways for preoperative fasting and postoperative feeding in pediatric anesthesia. The review was published in the Indian Journal of Anesthesia
Fasting guidelines before surgery are intended to minimize perioperative morbidity which may occur due to prolonged fasting, hypoglycemia, dehydration, and electrolyte imbalance in pediatric patients during surgery.
The authors extensively studied relevant review articles and major society guidelines such as the Association of Paediatric Anaesthesiologists of Great Britain and Ireland (APAGBI), the French Language Society of Paediatric Anaesthesiologists and the European Society of Paediatric Anesthetists.
Gastric emptying is a test that measures the time it takes for food to empty from the stomach and enter the small intestine. The guidelines have pointed out certain factors that may influence gastric emptying. These factors include anxiety, pain, diabetes, trauma, reflux disease, and intestinal obstruction. The guideline has pointed out that in mature neonates and infants, prematurity and cow's milk have shown to slacken the rate of gastric emptying, emptying of infant formula feed is greatly affected by the content in it.
The guidelines recommended a thorough perioperative assessment of the patient. It stated that " A thorough preoperative evaluation is necessary in order to identify the patients who are at increased risk of aspiration. The preoperative evaluation should include patient history and clinical examination which in turn should include the patient's age, sex, American Society of Anesthesiologists (ASA) status, any difficult airway, gastro-oesophageal reflux disease, diabetes or any other factors which may increase the risk of pulmonary aspiration."
Following are some major recommendations from the guidelines for safe and effective preoperative fasting and post-operative feeding in pediatric patients


Fasting duration of 4 hours for breastmilk, 6 hours for milk and light meals and 8 hours for fatty meals is recommended.


Based on various studies the 2-hour fasting period for clear fluids is liberalized to 1 hour in children. This has shown a very minimal risk of aspiration, decreased incidence of dehydration and improved child satisfaction.


Maltodextrin based carbohydrate drinks may be given until 2 hours, preoperatively.


Gum chewing prior to surgery is not an indication for delaying the procedure provided it is only chewed, not swallowed.


The ward staff should be educated and encouraged always to find whether oral intake can be continued to incase of unanticipated prolongation of
the period of fasting.


post-operative oral feeding should be initiated at the earliest and only on-demand in otherwise healthy individuals who are not sedated unless contraindicated


To read the review article, click on the link
Toms AS, Rai E. Operative fasting guidelines and postoperative feeding in paediatric anaesthesia-current concepts. Indian J Anaesth [serial online] 2019 [cited 2019 Sep 18];63:707-12. Available from:
http://www.ijaweb.org/text.asp?2019/63/9/707/266801