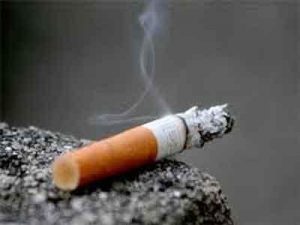 Tobacco smoke exposure is associated with increased respiratory symptoms and asthma in children. Maternal smoking in pregnancy is an important cause of tobacco smoke exposure in children which is disproportionately high in this group despite regulations on public smoking. According to a new study Tobacco smoke exposure during pregnancy is worse for children with asthma than postnatal secondhand smoke exposure.This implies that Prenatal tobacco smoke exposure worse than postnatal smoke exposure.The new study has been published in the journal CHEST.
A new study published in the journal CHEST® highlights the burden of obstructive lung disease in US children and implicates tobacco smoke exposure (TSE) through maternal smoking during pregnancy as more strongly associated with worse lung function than current, ongoing TSE in school-aged children with asthma.
"Childhood asthma is a significant source of morbidity for US children; those with poor lung function have an even greater burden of disease," explained lead investigator Stacey-Ann Whittaker Brown, MD, from the Division of Pulmonary, Critical Care, and Sleep Medicine, Icahn School of Medicine at Mount Sinai, New York, NY. "Few studies have analyzed the individual contribution of secondhand smoke exposure during pregnancy or current, ongoing secondhand smoke exposure on the lung function of children. Unfortunately, many children are exposed to both. As we learn more about improving asthma outcomes in children, it is important to find out not only what environmental exposures are implicated in poor lung function, but also when those exposures are most harmful."
Investigators analyzed the relationship between lung function and the type of secondhand smoke exposure in a representative sample of school-aged children aged six to 11 years. The sample consisted of 2,070 children who participated in the 2007-2012 National Health and Nutrition Examination Survey (NHANES). NHANES is an annual cross-sectional survey conducted by the National Center for Health Statistics branch of the Centers for Disease Control and Prevention (CDC) on a representative sample of the US population of both children and adults. Detailed information about ongoing secondhand smoke exposure as well as parental self-reported exposure prior to birth was obtained. During the study period, lung function was measured using spirometry, and exposure to smoking was assessed through levels of cotinine in the blood, a marker of the extent of current secondhand smoke exposure. Thus, investigators were able to distinguish clearly between exposure in pregnancy and ongoing secondhand smoke exposure.
Nearly 10 percent of both children with and without asthma in the sample had reduced lung function. Investigators found that current tobacco smoke exposure was independently associated with airflow obstruction in school-aged children, although the extent of the association was small. However, prenatal tobacco smoke exposure was associated with a 2.5 times increase in odds of having airflow obstruction in children with asthma.
"This study implicates maternal smoking in pregnancy as the period of secondhand exposure that is more strongly associated with worse lung function in asthmatic children," stated Dr. Whittaker Brown. "Maternal smoking in pregnancy may set children with asthma on a trajectory of poor lung function in later childhood, and other studies suggest this effect may be lifelong. Repeated studies into this relationship are needed."
For more details click on the link : Chest, 2018; 153 (3): 630 DOI: 10.1016/j.chest.2017.10.003
Anjali Nimesh Joined Medical Dialogue as Reporter in 2016. she covers all the medical specialty news in different medical categories. She also covers the Medical guidelines, Medical Journals, rare medical surgeries as well as all the updates in medical filed.
She is a graduate from Dr. Bhimrao Ambedkar University.
She can be contacted at editorial@medicaldialogues.in
Contact no. 011-43720751