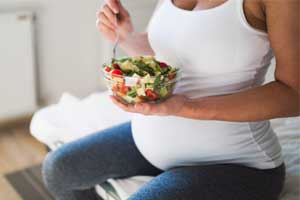 The study, comparing brain images of school-aged youths born just prior to the fortification mandate to those of young people born afterward, found that increased in utero folic acid exposure was associated with changes in later brain development. These brain changes, in turn, predicted a reduced risk for symptoms of psychosis.
Joshua Roffman, Department of Psychiatry, Massachusetts General Hospital, and colleagues conducted the study to evaluate associations among fetal folic acid exposure, cortical maturation, and psychiatric risk in youths.
Read Also: Folic Acid may lower Stroke Risk in Hypertensive patients
The research team reviewed two sets of brain MR images taken when children and adolescents born from 1993 to 2001 were ages 8 to 18. One set consisted of normal brain images taken at the MGH as part of the clinical care of 292 patients; another set included images from 861 participants in the Philadelphia Neurodevelopmental Cohort, a study that included assessment of psychiatric symptoms, including those associated with psychotic disorders. Both of those groups were divided according to probable prenatal exposure to folic acid – those born before July 1, 1996, when fortification began, those born after July 1, 1998, when implementation was complete, and those born in the intervening two years, for whom group exposure would have been intermediate. The third set of images reflected 217 participants in a multi-site National Institutes Health (NIH) study, all ages 8 to 18 when imaged but born before folic acid fortification was instituted.
Key Findings:
Images from both the MGH and Philadelphia cohorts revealed that young people born after full implementation of folic acid fortification had different patterns of cortical maturation compared with participants born before the program began.
These differences were characterized by significantly thicker brain tissue and delayed thinning of the cerebral cortex in regions associated with schizophrenia.
The cortical thickness of those born during the rollout period was intermediate between the two other groups. While a thinning of the cerebral cortex in school-aged children is a normal part of brain maturation – probably associated with processes like the elimination of unnecessary connections between neurons – previous studies have associated early and accelerated cortical thinning with autism and with symptoms of psychosis.
The delayed cortical thinning seen in fully folic-acid-exposed participants was associated with a significantly reduced risk of symptoms of psychosis.
Images from the NIH cohort, which was not exposed to folic acid fortification, found no evidence of the delayed cortical thinning seen in the folic-acid-exposed participants from the other two groups, supporting the association between prenatal folic acid exposure and delayed cortical thinning.
"While our results link prenatal exposure to folic acid fortification with changes in cortical development and with a reduced risk of psychotic spectrum symptoms, they cannot directly link folic acid exposure to reduced schizophrenia risk, since the typical age of onset for that disorder is in the early 20s. But since such symptoms in youth are on the same continuum as schizophrenia, the results hold some promise for schizophrenia prevention." says Roffman. "The oldest participants in our study are now approaching the age of greatest risk for several psychiatric disorders – also including bipolar disorder and depression – so it will be of great interest to see whether exposure does have an effect on the incidence of these disorders. Future research should also look at how actual maternal folate levels relate to postnatal brain development and the risk of subsequent serious mental illness."
"In replicated cohorts, fetal exposure to population-wide folic acid fortification was associated with subsequent alterations in cortical development among school-aged youths. In turn, these cortical changes were associated with reduced risk of psychosis. Our findings suggest that protective effects of prenatal folic acid exposure may extend beyond prevention of neural tube defects and span neurodevelopment during childhood and adolescence," concluded the authors.
Read Also: Folic acid fortified food linked to decline in CDH : AHA Study
For further information follow the link: 10.1001/jamapsychiatry.2018.1381