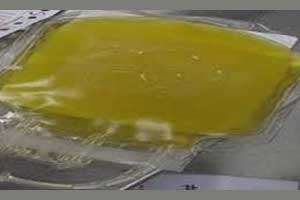 Giving two units of plasma to seriously injured patients with severe bleeding during medical air transport on the way to the hospital could increase the chances of survival by 10 percent, according to the results of a  clinical trial published in the New England Journal of Medicine.
The findings emphasized the importance of the inclusion of prehospital care as a life-saving component of health care delivery, rather than merely a mode of transportation.
"These results have the power to significantly alter trauma resuscitation, and their importance to the trauma community cannot be overstated," said co-lead author Jason Sperry, M.D., M.P.H., professor in the departments of Surgery and Critical Care Medicine in Pitt's School of Medicine. "This is the first trial in a quarter century to have the potential to alter prehospital care so considerably."
The Prehospital Air Medical Plasma (PAMPer) trial was a phase 3 randomized trial that compared outcomes in trauma patients at risk of hemorrhagic shock receiving two units of blood plasma during air medical transport to those who did not. 7,275 patients who were transported via air medical transport to nine participating trauma centers from May 2014 through October 2017, across the country were screened for eligibility for the trial. Finally, 501 were enrolled. Most of the participants were men who had suffered severe trauma, such as from a fall from a height or accident.
During the study air medical bases at each participating institution were randomized to either administer plasma or standard care for one-month intervals. Two units of plasma were administered to the patient as soon as they were deemed eligible for the trial. If the two units were completed during the flight, the team would revert to standard care. If they weren't completed, the plasma would continue to be administered when the patient arrived at the trauma center.
Read Also: Blood-plasma infusions in patients of Alzheimer's increase functional & cognitive ability
The study found that after 30 days, 76.8 percent of the patients who received plasma were still alive, compared with 67 percent of those who received standard care. Plasma patients also had lower 24-hour and in-hospital mortality. Their blood clotted faster, and they had less need for blood transfusions than their counterparts who did not get the prehospital plasma.
The PAMPer trial used thawed plasma, which can last for five days after it is unfrozen. So, a constant check of the expiry has to be maintained by the air transport teams.

"Using thawed plasma, like we did in our trial, may not be feasible for all trauma centers," said Sperry. "But there are alternatives available or that are being approved by regulators soon that can extend the exciting results of our trial to more traumatically injured patients, potentially saving hundreds of lives every year."
Plasma is a yellowish liquid that helps blood clot. Blood banks separate it from red blood cells and platelets because the separated components can be used for different life-saving purposes and have different shelf lives. Plasma can last up to a year when frozen, whereas red blood cells and platelets should not be frozen.