Pregnant mom who smokes risks altering babys DNA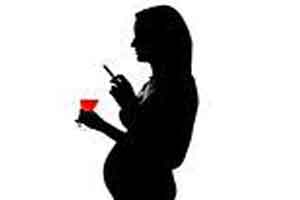 Washington D.C : If you can't keep your hands off cigarettes while pregnant, then you may be altering the DNA of your developing foetus as a new study suggests that maternal smoking during pregnancy leaves its lasting mark on the child's genetic make-up.
"For the first time, we can now demonstrate that exposure to tobacco smoke also causes epigenetic changes in enhancers of gene expression," said Irina Lehmann of the UFZ. These deregulated enhancers are distributed throughout the child's entire genome.
Researchers from Leipzig and Heidelberg revealed that epigenetic changes related to tobacco smoke increase the risk of children developing lung diseases.
In this study, researchers asked which environmental factors could have a negative influence on children's health during pregnancy. In collaboration with the Municipal Hospital "St. Georg" in Leipzig, UFZ researchers have been monitoring 622 mothers and their children since 2006. The mothers underwent in-depth examinations for possible exposure to environmental factors during their pregnancy.
Lehmann explained that: "If an enhancer region is affected by the effects of smoking, this may lead to deregulation of several genes at the same time." The researchers give an example of the consequences of a deregulated enhancer in their work: the enzyme JNK2 (c-Jun N-terminal protein kinase 2) plays a role in inflammatory responses. If the enhancer that activates JNK2 is now affected, this may increase the risk of lung diseases in the children's later life.
The researchers also determined that the epigenetic effects observed in the umbilical cord blood at birth can still be seen several years after the child is born.
"The better our understanding of deregulation caused by environmental factors, the better we will be able to respond to this. Nevertheless in the case of tobacco smoke, avoiding exposure is still the best alternative," said Lehmann in summary.
The study appears in journal Molecular Systems Biology.
Source : ANI