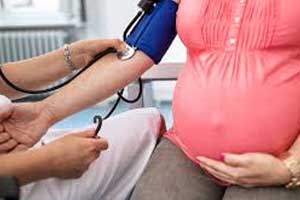 A new study published in the Journal of the American College of Cardiology has added to evidence that a potentially dangerous pregnancy complication called preeclampsia — marked by high blood pressure and organ damage — impairs the heart's ability to relax between contractions, causing it to overwork, resulting in the poor pumping of blood.
Arthur Jason Vaught, assistant professor of gynecology and obstetrics at the Johns Hopkins University School of Medicine, and colleagues conducted the study to characterize the short-term echocardiographic, clinical, and laboratory changes in women with preeclampsia (PEC), focusing on right ventricular (RV) systolic pressure (RVSP) and echocardiographic-derived diastolic, systolic, and speckle tracking parameters.
Preeclampsia occurs in an estimated 5 to 8 percent of pregnant women, and in developing countries, it causes up to 60 percent of all maternal deaths as well as premature births. In recent decades, researchers have been aware that preeclampsia also significantly increases the risk of heart failure, heart attack and stroke in mothers who had it but recovered — just how and why this risk occurs has been unclear.
Long-known risk factors for preeclampsia include very young or relative old age when pregnant, being overweight, high blood pressure, family history of some autoimmune disorders such as lupus, and African or Hispanic descent.
In this prospective observational study, the authors recruited 63 women with PEC and 36 pregnant control patients. Heart imaging technology was used to study the pumping and relaxing activity of hearts in the sickest 10 percent of pregnant women with preeclampsia. The researchers defined severe preeclampsia as having a blood pressure higher than 160/110; abnormal levels of protein in the urine reflecting kidney damage; diagnosed kidney or liver damage; fluid in the lungs; low platelet counts and/or vision problems. Study participants had an average age of 30; 47 percent were African-American, 44 percent were white, 9 percent were Hispanic and 4 percent were Asian. All participants underwent echocardiography to make images of the heart's chambers at about 33 weeks of pregnancy.
 "Although we have ways of identifying and managing risk factors in many women, severe preeclampsia sometimes hits the healthy without warning," says Dr. Vaught. "If we can find the causes and mechanisms behind the disorder, the idea is that we find better ways to prevent and treat it."
Also Read: Preeclampsia during pregnancy may lead to hypertension,DM within 5 years
Key Findings:

Women with severe preeclampsia had higher contraction pressures in the right ventricles of their heart, and an average 31 millimeters of mercury compared to the healthy group with 22 millimeters of mercury. The ventricles are the two lower pumping chambers of the heart's four sections.
Because the right ventricle "shortens" or contracts during heart contraction, researchers were able to see a 5 percent difference in the change of the heart's shape in those with severe preeclampsia compared with healthy controls.
Among the women with severe preeclampsia, the periods between contractions when the heart relaxes and fills with blood was also abnormal, decreasing the heart's ability to pump an adequate amount of blood to the body and overworking the heart when it did pump, leading to heart failure.
Because of the abnormal relaxation rates in the hearts of women with severe preeclampsia, eight of the participants already had signs of heart failure and were classified as having grade II diastolic dysfunction.
In women with preeclampsia, the left atrium — an upper chamber of the heart — was about 3 centimeters squared larger than those in healthy women. This was yet another sign of heart enlargement and overwork.
The walls of the hearts in women with preeclampsia were on average 0.2 centimeters thicker than those of healthy women.
Six of the women with severe preeclampsia also had peripartum pulmonary edema, which is characterized by fluid buildup in the lungs, causing swelling, difficulty breathing and other complications for both mother and fetus.
"The damage done to the heart's pumping ability during pregnancy in women with preeclampsia is striking, and it makes sense that this particular kind of damage puts them at greater risk of heart disease and strokes in the future," says Vaught.
The researchers do not at this point suggest that all pregnant women routinely undergo heart imaging, but say their study advances scientific understanding of the risks.
" Our findings show that women with PEC have higher RVSP, higher rates of abnormal diastolic function, decreased global RVLSS (RV longitudinal systolic strain), increased left-sided chamber remodeling, and higher rates of peripartum pulmonary edema, when compared with healthy pregnant women, concluded the authors.
For further information log on to 10.1016/j.jacc.2018.04.048