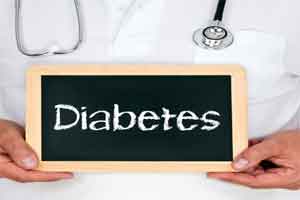 Diabetes has long been linked to an increased risk of heart disease. Plenty of previous researchers have also tied diabetes to an increased risk of kidney disease.Dr. Mohammed Ali,  at Emory University and for the U.S. Centers for Disease Control and Prevention in Atlanta and associates have conducted a study to evaluate the effect of prediabetes on heart and kidney disease and found that People who have prediabetes may still have a higher risk of heart and kidney disease than individuals with normal blood sugar.The study has been published in The Lancet Diabetes and Endocrinology.
For the study, prediabetes was defined as a fasting blood glucose level of 100 to 125 mg/dL or a hemoglobin A1c level of 5.7% to 6.4%."Pre-diabetes is extremely common," said lead study author Dr. Mohammed Ali, a researcher at Emory University and for the U.S. Centers for Disease Control and Prevention in Atlanta."Patients who are told they have pre-diabetes should work with their providers to actively address it and initiate sustainable lifestyle changes and/or medications," Ali advised.
For the study, , researchers examined a nationally representative sample of 27,971 adults surveyed in four waves from 1988 to 1994, 1999 to 2004, 2005 to 2010 and 2011 to 2014. By the broadest definition of pre-diabetes, researchers estimated the number of adults with pre-diabetes increased from 56.2 million at the start of the study period to 78.5 million by the end.By the end of the study, many people with pre-diabetes had risk factors for heart and kidney problems: 37 percent had high blood pressure, 51 percent had high cholesterol, 24 percent smoked, 5 percent had reduced blood filtration by the kidneys, and 8 percent had elevated levels of the protein albumin in the urine that suggest impaired kidney function.
While the study wasn't a controlled experiment designed to prove whether or how reducing slightly elevated blood sugar might reduce the risk of heart or kidney problems, lifestyle changes like increased exercise and a healthier diet might help people reduce blood sugar and their risk of health problems that can accompany diabetes, Ali said by email.
Limitations of the study include the potential that the diabetes assessments used might have underestimated the number of people with slightly elevated blood sugar, the authors note. Researchers didn't have results from what's known as an impaired glucose tolerance test, which may be a better indication of the risk of heart and kidney disease than the alternative tests used in the study.
Still, the results offer fresh evidence of the health risks associated with pre-diabetes, said Mika Kivimaki, a researcher at University College London in the U.K. who wasn't involved in the study. However, the evidence is stronger for the connection with kidney disease than heart disease, Kivimaki said by email.
"Obesity, elevated blood pressure, high cholesterol and smoking are much more important risk factors for cardiovascular disease and are therefore the main targets of cardiovascular disease prevention," Kivimaki said.
 But people with slightly elevated blood sugar should still take steps to get it down to a healthy level.
"I believe people with elevated blood sugar would benefit from adopting a healthy lifestyle and keeping blood pressure and cholesterol at healthy levels because all these have several favorable effects, including a reduced risk of diabetes, cardiovascular disease and kidney problems," Kivimaki added.
For more details click on the link : DOI: https://doi.org/10.1016/S2213-8587(18)30027-5