Pre-operative evaluation of adults undergoing elective noncardiac surgery: Updated ESA guidelines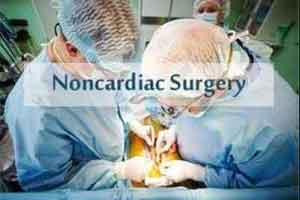 European Society of Anaesthesiology (ESA) has released its updated guidelines on the pre-operative evaluation of the adult undergoing noncardiac surgery. The aim of the Guidelines is to present recommendations based on the available relevant clinical evidence and to provide an overview of current knowledge on the subject with an assessment of the quality of the evidence in order to allow anaesthesiologists all over Europe to integrate – wherever possible – this knowledge into daily patient care. The Guidelines have been published in the European Journal of Anaesthesiology.
Main recommendations are as follows-
How should a pre-operative consultation clinic be organized?
Updated recommendations


We suggest the use of pre-operative computer-based evaluation tools, based on well-conceived standardized questionnaires, whenever possible (2B); their use may improve the quality of assessment. (2C)


We recommend the implementation of functional measures such as level of independence, frailty and level of anxiety in pre-operative evaluation. (1B)


We suggest a sufficient time lapse between pre-operative evaluation and the scheduled procedure to allow for the implementation of any advisable pre-operative intervention aimed at improving patient outcome. (2C)


Pre-operative assessment may be carried out by a nurse or physician, but we recommend that it should be concluded by a physician anesthetist. (1C)


How should the patient be informed about peri-operative risks?
Updated recommendations


We recommend the inclusion of pre-operative information in every pre-operative consultation, as it is very important to patients. (1B)


The preferred format of patients' education appears to be multimedia presentations, for which we suggest a web-based approach due to feasibility and ease. (2B)


We recommend applying consistent effort to improve clinicians' communication skills. (1B)


How should a pre-operative assessment of a patient be performed?
Cardiovascular disease
Updated recommendations


We suggest that selected patients with cardiac disease undergoing low and intermediate-risk noncardiac surgery may be referred by the anaesthesiologist for cardiological evaluation and medical optimization. (2C)


We recommend the NSQIP model or the RCRI for cardiac peri-operative risk stratification. (1B)


We suggest considering assessment of cardiac troponins in high-risk patients, both before and 48 to 72 h after major surgery.(2B)


We suggest considering BNP measurement for obtaining independent prognostic information on peri-operative and late cardiac events in high-risk patients. (2B)


We recommend peri-operative continuation of beta-blockers in patients currently receiving this medication.(1B)


We suggest considering pre-operative initiation of beta-blockers in patients scheduled for high-risk surgery and who have at least two clinical risk factors or ASA status at least 3. (2B)


We suggest considering pre-operative initiation of beta-blockers in patients who have known ischaemic heart disease or myocardial ischaemia. (2B)


We suggest that when oral beta-blockade is initiated in patients who undergo noncardiac surgery, the use of atenolol or bisoprolol as a first choice may be considered.(2B)


We suggest that continuation of aspirin, in patients previously thus treated, may be considered in the peri-operative period, and should be based on an individual decision that takes into account the peri-operative bleeding risk weighed against the risk of thrombotic complications.(2B)


We suggest discontinuation of aspirin therapy when control of haemostasis is anticipated to be difficult during surgery. (2B)


Respiratory disease, smoking, obstructive sleep apnea syndrome
Updated recommendations


We do not recommend pre-operative diagnostic spirometry as a general measure to predict the risk of postoperative complications in noncardiothoracic patients.80–82 (1C)


We do not recommend routine pre-operative chest radiographs because they rarely alter peri-operative management. (1C)


We recommend that patients with obstructive sleep apnoea syndrome should be evaluated carefully for a potentially difficult airway and that special vigilance is required in the immediate postoperative period.94,95 (1B)


We recommend the use of specific questionnaires to screen for obstructive sleep apnoea syndrome when polysomnography is not available (gold standard). The STOP-BANG questionnaire is the most sensitive, specific and best validated score.91,99–106 (1B)


We suggest use of peri-operative CPAP in patients with obstructive sleep apnoea syndrome to reduce hypoxic events.95,96 (2B)


We suggest that pre-operative IMT reduces postoperative atelectasis, pneumonia and length of hospital stay.108 (2A)


We do not suggest that pre-operative incentive spirometry helps prevent PPCs.110 (2A).


We suggest correction of malnutrition.111 (2C)


We suggest that smoking cessation of at least 4 weeks prior to surgery reduces postoperative complications.122,123(2A)


We suggest that there is insufficient evidence to indicate that short-term cessation (<4 weeks) of smoking decreases the rate of postoperative complications.121 (2A)


Renal disease
Updated recommendations


We suggest taking known risk factors (older age, obesity) into consideration while identifying patients at risk of postoperative AKI. Additional caution is warranted when administering potentially nephrotoxic medication, adjusting the volume status and controlling blood pressure in this subgroup.142–144 (2C)


We suggest taking into consideration test results (BUN/Cr ratio, pre-operative Hb and peri-operative Hb decrease) in order to identify patients at risk of postoperative AKI.145,146,148 (2B)


We suggest using calculated GFR instead of serum creatinine for renal function evaluation and prediction of postoperative morbidity and mortality in patients with impaired renal function undergoing noncardiac procedures.149–151(2B)


We suggest that adding pre-operative statin therapy is of no benefit in the preservation of renal function in patients undergoing noncardiac procedures.152,153 (2B)


Diabetes
Updated recommendations


We suggest that known diabetic individuals should be managed in accordance with guidelines on the management of patients with known or suspected cardiovascular disease.7,176,192,193 (2A)


We suggest that blood sugar is not routinely measured at pre-operative assessment in otherwise healthy individuals scheduled for elective noncardiac surgery, except for major orthopaedic or vascular surgery.173,178 (2A)


We recommend that patients at a high risk of disordered glucose homeostasis should be identified as needing specific attention to peri-operative glucose control.166,173 (1C)


We suggest blood glucose testing and testing for HbA1c in patients with known diabetes mellitus and patients scheduled for major orthopaedic and vascular surgery.166,175,190 (2A)


We suggest that patients with long-standing diabetes should undergo careful airway assessment.194 (2C)


Obesity
Updated recommendations


We suggest that pre-operative assessment of the obese includes at least the STOP-BANG questionnaire, clinical evaluation, ECG, oximetry and/or polysomnography.103,202,209,255–262 (2B)


We suggest laboratory tests to detect pathological glucose/HbA1c concentrations and anaemia in the obese.218,220,223(2C)


We suggest that neck circumferences at least 43 cm as well as a high Mallampati score are predictors for a difficult intubation in the obese.209 (2C)


We suggest that the use of CPAP/PSV/BiPAP peri-operatively might reduce hypoxic events in the obese.255,264 (2C)


Coagulation disorders
Updated recommendations


We recommend assessment of the bleeding history, including a physical examination, as the best way to identify patients with impaired haemostasis and/or an increased risk of bleeding complications during and after surgery.268 (1B)


We suggest that, in addition to detailed history taking, laboratory tests can be used to improve identification of coagulation disorders.269,270 (2C)


We suggest that simple laboratory tests like platelet count may have a prognostic value and can be used in the evaluation.272,273 (2A)


We suggest that cataract surgery with continued anticoagulant medication can be performed safely provided that topical anaesthesia is used and a clear corneal incision is made by a skilled surgeon.274 (2B)


We suggest that noncardiac surgery may be safely performed in patients on single antiplatelet therapy after coronary stent implantation (2B)


We suggest that neither a history of platelet inhibitors nor findings from the PFA-100 can predict peri-operaitve bleeding. Surgery for hip fracture in patients taking aspirin is considered well tolerated and stopping clopidogrel for 3 days is sufficient to prevent major bleeding.(2B)


We recommend that hip fracture surgery can be safely performed without stopping clopidogrel peri-operatively.(1B)


We suggest that if reversal of warfarin-associated coagulopathy is necessary, primarily PCC are to be used. In the absence of PCC, the combination of FFP and vitamin K is a possibility. (2C)


We recommend an evidence-based approach in the decision to withdraw clopidogrel in specific patient groups because of the potential risks. (1C)


We suggest that elective surgical procedures can be safely performed while on clopidogrel without increased peri-operative bleeding risk.(2C)


Anaemia and pre-operative blood conservation strategies
Updated recommendations


We recommend treating known iron deficiency anaemia with intravenous iron before elective procedures.288–292(1B)


We recommend using parenteral iron rather that oral iron supplements for iron deficiency anaemia before elective procedures.292(1C)


We suggest using erythropoietin supplements for anaemic patients before elective surgery and those at risk of postoperative anaemia once other causes of anaemia have been excluded or treated.293,295(2B)


For the best results in peri-operative anaemia management, we recommend using intravenous iron together with erythropoiesis-stimulating agents.296,297(1C)


We recommend implementing PBM principles and goal-directed transfusion policy into daily hospital practice.298–301,303(1C)


We recommend using tranexamic acid for known anaemic patients and those at risk of postoperative anaemia undergoing elective joint arthroplasty.304(1C)


We suggest using cell salvage for all patients having orthopaedic procedures with anticipated high blood loss.295,305(2B)


We suggest that pre-operative donation of autologous blood (or acute normovolaemic haemodilution) should be considered carefully and used according to individual condition and the type of surgery.306,308(2C)


For further reference log on to: doi: 10.1097/EJA.0000000000000817