Early preterm Preeclampsia increase risk of Chronic Kidney disease later: BMJ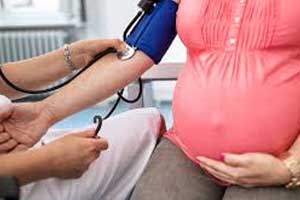 Early preterm Preeclampsia increases the risk of Chronic Kidney disease later.
High blood pressure is the most common medical problem encountered during pregnancy, complicating more than 2-3% of pregnancies.
Preeclampsia i.e high blood pressure in women after 20 weeks of pregnancy coupled with signs of damage to another organ system, most often the liver and kidneys may be a harbinger of chronic kidney disease later, finds a new study. Women who have preeclampsia, a hypertensive disorder of pregnancy are more prone to develop chronic kidney disease in later life. The study has been published in The BMJ.
The researchers In a Nationwide register-based cohort study set out to investigate between pre-eclampsia and later risk of kidney disease.
The researchers using Danish health registries studied over one million women without prior kidney or cardiovascular disease who gave birth between 1978 and 2015. Nearly 4% were diagnosed with preeclampsia.
During an average of 19 years' follow-up, 0.4% of the women developed chronic kidney disorders (e.g., chronic kidney disease, hypertensive kidney disease) more than 3 months after delivery. After multivariable adjustment, women who'd had preeclampsia had more than double the risk for chronic kidney disorders. The risk increase was particularly high for women who also delivered preterm, and for kidney disorders diagnosed within the first 5 years after pregnancy.
On stratification of the analyses on time since pregnancy it was shown that associations between pre-eclampsia and chronic kidney disease and glomerular/proteinuric disease were much stronger within five years of the latest pregnancy than five years or longer after the latest pregnancy . By contrast, associations between pre-eclampsia and acute renal conditions were modest.
The researchers concluded that Pre-eclampsia, particularly early preterm pre-eclampsia, was strongly associated with several chronic renal disorders later in life. More research is needed to determine which women are most likely to develop kidney disease after pre-eclampsia, what mechanisms underlie the association, and what clinical follow-up and interventions (and in what timeframe post-pregnancy) would be most appropriate and effective.
The study suggests that at least a subset of women with previous preeclampsia need clinical monitoring for kidney disease in the years immediately after pregnancy.
For further reference log on to:
The BMJ article