Postoperative high-flow nasal oxygen significantly reduces hospital stay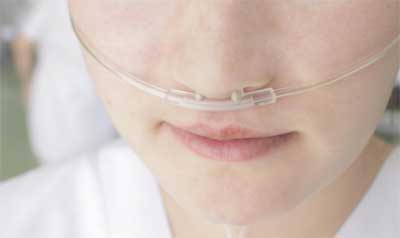 A new study published in the Journal of Intensive Care Medicine has reported that among the adult postoperative patients, high-flow nasal cannula oxygen (HFNO) therapy compared to the control group significantly reduced hospital length of stay (LOS).
High-flow nasal cannula (HFNC) oxygen therapy is carried out using an air/oxygen blender, active humidifier, single heated tube, and nasal cannula. Able to deliver adequately heated and humidified medical gas at flows up to 60 L/min, it is considered to have a number of physiological advantages compared with other standard oxygen therapies.
Zhonghua Lu and his associates performed a systematic review and meta-analysis to evaluate the effect of high-flow nasal cannula oxygen (HFNO) therapy on hospital length of stay (LOS) and postoperative pulmonary complications (PPCs) in adult postoperative patients.
Read Also: Routine use of oxygen may even harm Patients
The investigators extracted the data from PubMed, Embase, the Cochrane Library, Web of Science of Studies, China National Knowledge Index, and Wan Fang databases were searched until July 2018.
The researchers included the randomized controlled trials (RCTs) comparing HFNO with conventional oxygen therapy or noninvasive mechanical ventilation in adult postoperative patients. Demographic variables, high-flow oxygen therapy application, effects, and side effects were retrieved. The primary outcome were hospital LOS and PPCs; short-term mortality (defined as intensive care unit, hospital, or 28-day mortality) and intubation rate were the secondary outcomes.
Read Also: Researchers find no long term benefit of Oxygen in COPD
Fourteen studies which included 2568 patients met the inclusion criteria and were included. The study found that compared to the control group, the pooled effect showed that HFNO was significantly associated with a shorter hospital stay but not mortality. Moreover, the weak evidence of a reduction in reintubation rate and PPC rate with HFNO versus control group was recorded.
For more information log on to https://doi.org/10.1177/0885066618817718