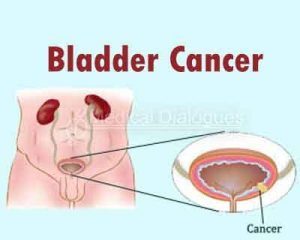 Post surgery exposure of the bladder with gemcitabine infusion reduces 34 percent risk of recurrence of bladder cancer, reports SWOG, an international clinical trials network. Gemcitabine works by blocking new DNA and killing any dividing cells. It is used to treat several other cancers, including advanced bladder cancer
Bladder cancer affects nearly 330,000 people across the world every year, according to the statistics in the World Health Organisation's 'World Cancer Report'. Bladder cancer occurs in men more frequently than it does in women and usually affects older adults, though it can happen at any age.
Edward M. Messing and his associates conducted a study to evaluate the efficacy of gemcitabine infusion to prevent recurrence of bladder cancer.
The author said that there is a stage in bladder cancer where the disease is circumscribed and infiltrative and at this stage, cancer can be eradicated easily, but care must be taken to preserve organ integrity.
A randomized, double-blind clinical trial involving 406 eligible patients was conducted at 23 cancer centers
All cancerous tissue was removed with a procedure known as TURBT, or transurethral resection of bladder tumor. After that 201 patients received the chemotherapy drug, gemcitabine, mixed with saline, administered via a catheter to the bladder area within three hours after surgery. The second group of 205 patients received saline alone.
All the patients were followed for four years, the time period when most bladder cancers recur seeking to discover which treatment strategy worked better.
The study found that there was 34 percent reduction in the risk of recurrence for patients receiving the gemcitabine infusion. Sixty-seven patients in the gemcitabine group, or 35 percent, experienced a recurrence, compared with 91 patients in the saline group, or 47 percent.
"The real importance of this study is that we now have a readily available drug that's fairly inexpensive, well-tolerated, and effective," Messing said. "One of the biggest issues with low-grade bladder cancer is that it frequently returns. I know some patients who have to undergo four surgeries a year, and if we can cut down on these recurrences, we will save a lot of people a lot of pain, money, and time lost to recovery."
The study was published in JAMA
For more reference log on to: doi:10.1001/jama.1968.03150120053012
The following two tabs change content below.
Vinay Singh
Vinay Singh joined Medical Dialogue as Desk Editor in 2018. He covers the medical speciality news in different medical categories including Medical guidelines, updates from Medical Journals and Case Reports. He completed his graduation in Biotechnology from AAIDU and did his MBA from IILM Gurgaon. He can be contacted at editorial@medicaldialogues.in . Contact no. 011-43720751
Latest posts by Vinay Singh (see all)