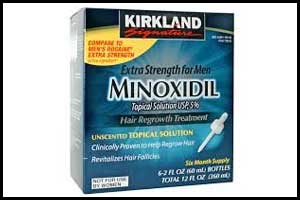 Minoxidil is a popular drug which is used on the scalp to treat hair loss.In a new study, it has been found that it might improve blood flow to the brain, lower blood pressure and increase elasticity in the blood vessels if taken in an oral form. The article has been published ahead of print in the American Journal of Physiology-Heart and Circulatory Physiology.
Elastin, an elastic protein found in connective tissue throughout the body, makes the blood vessels flexible. A lack of elastin causes stiffening of the blood vessels and arteries (vascular stiffness) and reduces blood flow. Vascular stiffness increases the risk of heart attack and stroke in aging adults. Reduced blood flow to the brain can contribute to the age-related cognitive decline.
Previous studies have found that drugs that open the potassium channels—which allow potassium to exit the cells in the blood vessels—might improve blood flow. In the current study, researchers used a mouse model of congenital elastin insufficiency—the rare condition of being born with abnormally low levels of elastin—to determine how minoxidil, a type of potassium channel opener, improves vascular health. People with congenital elastin insufficiency often need to take medication to control blood pressure and are at a higher risk for developing heart problems.
The research team divided the low elastin mice into three groups:
One group drank water mixed with oral minoxidil for two months ("treated");
Another group was treated for two weeks before being removed from the medication ("partially treated"); and
A third group was not treated with the medication ("control").
When compared to control mice, the treated mice had:
lower systolic blood pressure (pressure in the arteries when the heart beats);
larger, more open blood vessels such as the aorta and carotid artery;
lower vascular stiffness;
increased blood flow through the carotid arteries and into the brain; and
higher levels of an amino acid found in elastin.
These changes suggest that minoxidil changes the structure of the blood vessels to facilitate increased flexibility and blood flow.
The beneficial arterial changes were noticeable in the partially treated mice and were more obvious with longer treatment.  The changes remained for several weeks after the treated group was removed from the medication. The long-lasting results suggest that minoxidil might be used as a temporary treatment for vascular stiffness without the need for ongoing therapy.
"These results in mice are promising," said Beth Kozel, MD, PhD, the senior author for the study, "We are looking forward to future clinical trials to test how this medication impacts blood flow in people."
"Although studied here in a rare disease model, the implications of these findings for the treatment of vessels impacted by age-induced vascular stiffness and secondary elastin insufficiency are also important," the researchers wrote. "Treatment of aged individuals with minoxidil may simultaneously improve blood pressure, arterial stiffness and blood flow—all risk factors for cardiovascular mortality, but also for long-term cognitive function."