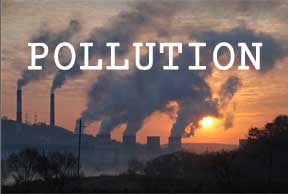 Pollution around the globe now contributes to an estimated 9 million deaths annually or roughly one in six according to an in-depth new study published in the Lancet. That means pollution kills three times more people each year than HIV/AIDS, tuberculosis and malaria combined.The two-year project relied on data from researchers in more than 130 countries documenting the causes of disease and premature deaths in recent decades. Large population of world was suffering from health problems related to pollution, according to new research published in the journal Lancet.
Simon Fraser University health sciences professor Bruce Lanphear is a Commissioner and author of The Lancet Commission on Pollution and Health that has released a report detailing the adverse effects of pollution on global health.
"This is the first global analysis of the impacts of pollution air, water, soil, occupational together as well as exploring the economic costs and the social injustice of pollution," says Lanphear. "Pollution, which is at the root of many diseases and disorders that plague humankind, is entirely preventable."
The report features solutions and recommends how the problem can be solved. It includes examples and case studies of pollution control success.
Commission findings include:
Pollution causes 16% of all deaths globally.
Diseases caused by pollution were responsible in 2015 for an estimated 9 million premature deaths 16% of all deaths worldwide three times more deaths than AIDS, tuberculosis, and malaria combined; and fifteen times more than all wars and other forms of violence. It kills more people than smoking, hunger and natural disasters. In some countries, it accounts for one in four deaths.
Pollution disproportionately kills the poor and the vulnerable. Nearly 92% of pollution-related deaths occur in low- and middle-income countries. Within countries, pollution's toll is greatest in poor and marginalized communities. Children face the highest risks because small exposures to chemicals in utero and in early childhood can result in lifelong disease and, disability, premature death, as well as reduced learning and earning potential.
Pollution is closely tied to climate change and biodiversity. Fossil fuel combustion in higher-income countries and the burning of biomass in lower-income countries accounts for 85% of airborne particulate pollution. Major emitters of carbon dioxide are coal-fired power plants, chemical producers, mining operations, and vehicles. Accelerating the switch to cleaner sources of energy will reduce air pollution and improve human and planetary health.
In fact, there were nine million premature pollution-related deaths in 2015 alone, with air pollution being the biggest single driver of early deaths."[Air pollution contributed to] 6.5 million deaths in 2015, while water pollution (1.8 million deaths) and workplace-related pollution (0.8 million deaths) pose the next largest risks," wrote the study authors in a press release. The research was conducted by dozens of international health and environmental experts and incorporates data from the ambitious Global Burden of Disease project, which highlighted how smoking, blood pressure, poor diet, and environmental factors affect human health earlier this year.
Pollution is particularly rampant and deadly in lower- to middle-income nations. But it also takes a toll in higher-income countries like the United States and may be holding back American life expectancy. Dirty air, water, and working conditions are associated with some of the most prominent causes of death in the world, including heart disease, cancer, and lung disease.
Those studies observed populations exposed to pollutants and compared them to people not exposed. The studies have shown that pollution can be an important cause of diseases many of them potentially fatal including asthma, cancer, neurodevelopmental disorders, birth defects in children, heart disease, stroke and lung disease.
 "As the report shows, no country is unaffected by pollution. Human activities, including industrialization, urbanization, and globalization, are all drivers of pollution. We hope that the findings and recommendations from this Lancet Commission will also marshal action in the health and development sectors, and persuade leaders at the national, state, provincial, and city levels to make pollution a priority," said Lancet senior executive editor Dr. Pamela Das and editor in chief Dr. Richard Horton in a statement accompanying the study.
For more details click on the link : Philip J Landrigan, Richard Fuller, Nereus J R Acosta, Olusoji Adeyi, Robert Arnold, Niladri (Nil) Basu, Abdoulaye Bibi Baldé, Roberto Bertollini, Stephan Bose-O'Reilly, Jo Ivey Boufford, Patrick N Breysse, Thomas Chiles, Chulabhorn Mahidol, Awa M Coll-Seck, Maureen L Cropper, Julius Fobil, Valentin Fuster, Michael Greenstone, Andy Haines, David Hanrahan, David Hunter, Mukesh Khare, Alan Krupnick, Bruce Lanphear, Bindu Lohani, Keith Martin, Karen V Mathiasen, Maureen A McTeer, Christopher J L Murray, Johanita D Ndahimananjara, Frederica Perera, Janez Potočnik, Alexander S Preker, Jairam Ramesh, Johan Rockström, Carlos Salinas, Leona D Samson, Karti Sandilya, Peter D Sly, Kirk R Smith, Achim Steiner, Richard B Stewart, William A Suk, Onno C P van Schayck, Gautam N Yadama, Kandeh Yumkella, Ma Zhong. The Lancet Commission on pollution and health. The Lancet, 2017; DOI: 10.1016/S0140-6736(17)32345-0
A Medical practitioner with a flair for writing medical articles, Dr Kamal Kant Kohli joined Medical Dialogues as an Editor-in-Chief for the Speciality Medical Dialogues. Before Joining Medical Dialogues, he has served as the Hony. Secretary of the Delhi Medical Association as well as the chairman of Anti-Quackery Committee in Delhi and worked with other Medical Councils of India. Email: drkohli@medicaldialogues.in. Contact no. 011-43720751