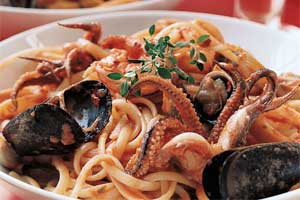 The couples who consume more seafood tend to have a greater ability to produce offspring and high frequency of sexual intercourse as compared to other couples attempting pregnancy who ate no or little seafood, according to a new prospective cohort study published in the Journal of Clinical Endocrinology & Metabolism.
The study was conducted by Audrey Gaskins, from Department of Nutrition, Harvard T.H. Chan School of Public Health, Boston, Massachusetts, USA, and colleagues to examine the relationship of male and female seafood intake with time to pregnancy (TTP).
Seafood is a rich source of protein and other nutrients including long-chain omega-3 fatty acids that are beneficial for women who are pregnant or trying pregnancy. However, due to concerns regarding mercury contamination of the food (which may counteract the reproductive benefits) has led some women trying to conceive to refrain from it.
"Our study suggests seafood can have many reproductive benefits, including shorter time to pregnancy and more frequent sexual activity," said Gaskins. "Our study found that couples who consume more than two servings of seafood per week while trying to get pregnant had a significantly higher frequency of sexual intercourse and shorter time to pregnancy."
For the study, the researchers followed 500 Michigan and Texas couples from the Longitudinal Investigation of Fertility and the Environment (LIFE) Study for one year to determine the relationship between seafood intake and time to pregnancy.
The association between seafood and faster time to pregnancy was not completely explained by more frequent sexual activity, suggesting other biological factors were at play. These could include effects on semen quality, ovulation or embryo quality, Gaskins said.
Key Findings:
92 percent of couples who ate seafood more than twice a week were pregnant at the end of one year, compared to 79 percent among couples consuming less.
In couples where the male and female partners consumed ≥8 seafood servings/cycle, had 47% and 60%  higher fecundity (shorter TTP) compared to couples with male and female partners who consumed ≤1 serving/cycle of the food, respectively.
Male and female partners with the highest seafood intake (≥8 servings/cycle) also had 22% higher sexual intercourse frequency (SIF).
Couples in which both partners consumed ≥8 seafood servings/cycle had 61% (95% CI 17, 122%) higher fecundity compared to couples consuming less.
"Higher male and female seafood intake was associated with higher frequency of sexual intercourse and fecundity among a large prospective cohort of couples attempting pregnancy," concluded the authors.
For more information click on the link:https://doi.org/10.1210/jc.2018-00385