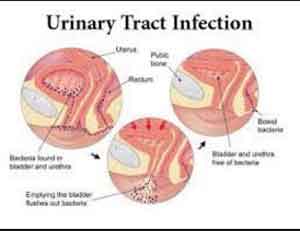 Urinary tract infections (UTIs) are common in young children, affecting 5-7% of febrile children under 2 years of age. Expedient collection of a urine sample allows for dipstick urinalysis and microscopy screening to guide immediate clinical decision making for treatment initiation.NICE guidelines recommend non-invasive 'clean catch' collection if possible but this can be difficult, especially in young children. They estimate that 20 minutes of staff time can be needed to obtain a sample. 
In a  Randomised controlled trial researchers have tried to determine if a simple stimulation method increases the rate of infant voiding for clean catch urine within five minutes. In a study conducted in the Emergency Department of a tertiary pediatric hospital, Australia Jonathan Kaufman and associates tried to collect a urine sample in 354 infants (aged 1-12 months). 
Infants were randomised to either gentle suprapubic cutaneous stimulation (n=174) using gauze soaked in cold fluid (the Quick-Wee method) or standard clean catch urine with no additional stimulation (n=170), for five minutes by the researchers. The primary outcome was voiding of urine within five minutes. Secondary outcomes were a successful collection of a urine sample, contamination rate, and parental and clinician satisfaction with the method.
It was found that  Quick-Wee method resulted in a significantly higher rate of voiding within five minutes compared with standard clean catch urine (31% v 12%, P<0.001), the difference in proportions 19% favoring Quick-Wee (95% confidence interval for difference 11% to 28%). Quick-Wee had a higher rate of successful urine sample collection (30% v 9%, P<0.001) and greater parental and clinician satisfaction (median 2 v 3 on a 5 point Likert scale, P<0.001). The difference in contamination between Quick-Wee and standard clean catch urine was not significant (27% v 45%, P=0.29). The number needed to treat was 4.7 (95% confidence interval 3.4 to 7.7) to successfully collect one additional urine sample within five minutes using Quick-Wee compared with standard clean catch urine.
It was concluded that Quick-Wee is a simple cutaneous stimulation method that significantly increases the five-minute voiding and success rate of clean catch urine collection.
For more details click on the link :
BMJ 2017; 357 doi: https://doi.org/10.1136/bmj.j1341