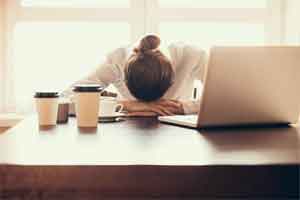 New longer-term data from the Harmony III open-label study presented at the 7th International Symposium on Narcolepsy in Beverly, Massachusetts, provides more evidence that the Harmony Biosciences' investigational drug pitolisant reduces excessive daytime sleepiness (EDS) and cataplexy in patients with narcolepsy.
Pitolisant is the first-in-class medication with a novel mechanism of action. "It works as a selective histamine 3 (H3) receptor antagonist/inverse agonist that enhances the activity of histaminergic neurons in the brain, which have been shown to improve a patient's wakefulness and inhibits attacks of cataplexy," Dr. Jeffrey Dayno, Harmony's chief medical officer, said in the company's press release.
Narcolepsy is a rare, chronic, debilitating neurologic disorder of sleep-wake state instability and is primarily characterized by excessive daytime sleepiness, cataplexy, and other manifestations of REM sleep dysregulation, which intrude into wakefulness. In most patients, it is caused by the loss of hypocretin, a neuropeptide in the brain that supports sleep-wake state stability. This disorder affects men and women equally with typical symptom onset in adolescence or young adulthood; however, it can take up to a decade to be properly diagnosed.
"The Harmony III open-label, long-term study for pitolisant reflects real-world experience of people living with the debilitating effects of excessive daytime sleepiness and cataplexy in narcolepsy."
Of 77 patients invited to participate in the extension period up to five years, 50 patients (65%) completed the first 12-month period, 48 elected to participate in the extension period and 32 of those (67%) stayed on pitolisant for five years or until the study ended. Most were maintained on pitolisant 40 mg once daily.
Key Findings of the Trial:
Patients continuing on pitolisant saw continued improvement in EDS based on the Epworth Sleepiness Scale (ESS).
The baseline ESS was 16.8, decreased to 13.4 at year one, then continued to improve over the course of the study with an ESS of 10.6 at five years.
Symptoms of REM dysregulation were reduced from baseline to year one as follows: cataplexy (-76%), hypnagogic hallucinations (-54%) and sleep paralysis (-62%). However, limited data from patient diaries were available at year 5 to assess these symptoms.
The safety and tolerability of pitolisant in the open-label study mirrored that seen in the randomized controlled trials for pitolisant.
Common side effects were headache, insomnia, weight gain, anxiety, depression, nausea, vomiting, and irritability; 16% of patients discontinued treatment due to adverse events.
There was no evidence of the development of tolerance with long-term use of pitolisant and there were no reports of withdrawal symptoms when the drug was stopped.
There was no evidence of the development of tolerance with long-term use of pitolisant and there were no reports of withdrawal symptoms when the drug was stopped.
"As pitolisant is not yet approved in the U.S., we cannot comment on the efficacy and safety of pitolisant as compared to other products on the market," said Dr. Dayno.

Pitolisant has received orphan, breakthrough-therapy and fast-track designations by the U.S. Food and Drug Administration (FDA) for the treatment of EDS and cataplexy in narcolepsy.
"If approved, pitolisant would represent the first new therapy in the U.S. in over a decade for the treatment of both EDS and cataplexy in patients with narcolepsy," said Dr. Dayno. Pitolisant was approved in Europe in 2016 for adults with narcolepsy with or without cataplexy. "Harmony's goal is to obtain FDA approval to market this new medication in the U.S. in 2019."
For further reference follow the link: https://bit.ly/2NUKp5Y