Pisat's Visual Vasopressor Injection Needle for safety in Laparoscopic myomectomy
Laparoscopic myomectomy, the surgery for removing fibroids of uterus is now done using just 3 small cuts of 0.5 cm size, using a camera. It is standard surgical practice to inject a vasopressor chemical into the fibroid to constrict the blood vessels and reduce blood loss. The use of vasopressin causes intra operative changes in pulse, blood pressure and rarely life-threatening side effects. These are mostly believed to be due to its injection into a blood vessel, instead of around the vessel. In several countries, vasopressin has been banned because of its potential side effects.
In laparoscopic surgery, the needle presently used throughout the world is about 30 cm long, and is completely opaque. Most vessels in the myoma capsule are small channels. Even if the surgeon were to puncture a blood vessel within the myoma and aspirate, the blood column would not rise to a distance of 30 cm, high enough to stain the fluid in the syringe red. So, blood vessel puncture by the needle remains undetected.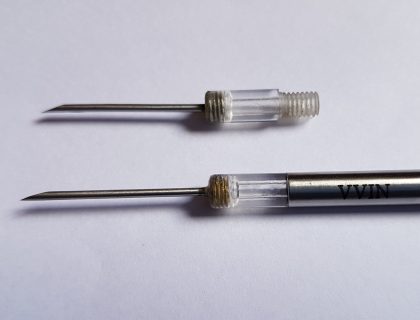 Pisat's VVIN (Visual vasopressor injection needle), addresses this problem by incorporating a transparent window close to the tip of the needle.(Fig 1 and 2) Thus, the surgeon can immediately see blood in this window during surgery. The needle can then immediately be withdrawn and repositioned. This small modification remarkably increases patient safety.
Using a VVIN, an aspirate volume of merely 0.03ml of blood is sufficient to detect an intravascular puncture. This is lesser than one single drop of blood, and 27 times more sensitive than a regular myoma injection needle, which requires at least 0.8 ml of blood to give a positive test. A prospective randomised study published by Pisat S et al in Surgical Technology International Journal, USA demonstrated significantly lesser haemodynamic fluctuations with the use of a VVIN as compared to a regular needle, with no adverse cardiovascular effects.
The needle has been termed by the International Society for Gynaecological Endoscopy (ISGE) to be "a significant progress in the laparoscopic management of fibroids" and has recommended its use to the international community. The concept is a worldwide first and its design is patented both nationally and internationally. More details, videos and case studies can be found online on www.pisatsvvin.com
Dr Sanket Pisat
The author is M.S., D.N.B, Obstetrics and Gynaecology and is Consultant Gynaecologist & Endoscopic Surgeon at Akanksha Hospitals Pvt. Ltd. He is a member Editorial Board, Gynecologist at Specialty Medical Dialogues.