Pirfenidone, Rapamycin combo offers better treatment option in Idiopathic pulmonary fibrosis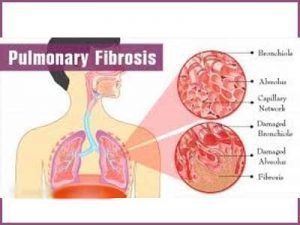 The combination of pirfenidone and rapamycin was found to widen the inhibition range of fibrogenic markers and prevent fibroblast migration in Idiopathic pulmonary fibrosis (IPF), according to a study recently published in the journal BMC Pulmonary Medicine.
Idiopathic pulmonary fibrosis (IPF) is the most common and deadly form of idiopathic interstitial pneumonia. The mortality from diagnosis is estimated between 3 and 5 years, and the onset of the disease usually occurs in elderly adults.
M.Molina-Molina et al conducted a study to find out the efficacy of Rapamycin, an inhibitor of fibroblast proliferation to improve the effects of pirfenidone. Pirfenidone is a pleiotropic anti-fibrotic treatment which slows down disease progression of idiopathic pulmonary fibrosis (IPF), a fatal lung disease.
Primary lung fibroblasts from IPF patients and human alveolar epithelial cells (A549) were treated in vitro with pirfenidone and rapamycin in the presence or absence of transforming growth factor β1 (TGF−β). Extracellular matrix protein and gene expression of markers involved in lung fibrosis (tenascin-c, fibronectin, collagen I [COL1A1], collagen III [COL3A1] and α-smooth muscle actin [α-SMA]) were analyzed. A cell migration assay in pirfenidone, rapamycin, and TGF−β-containing media was performed.
The study found that gene and protein expression of tenascin-c and fibronectin of fibrotic fibroblasts were reduced by pirfenidone or rapamycin treatment. Pirfenidone-rapamycin treatment did not revert the epithelial to mesenchymal transition pathway activated by TGF−β. The used concentration of pirfenidone and rapamycin was found to have no cytotoxic effect.
Read Also:
Diagnosis, Management of Idiopathic pulmonary fibrosis in adults: NICE updates Guidelines
Previous studies have shown the importance of ECM protein expression in the fibrotic process that occurs in IPF lungs. The researchers found that there is an inhibitory effect in the synthesis and gene expression of the ECM proteins, indicating that the treatment together is more efficient than the use of a single drug. Another important finding is the clear inhibition of TGF−β -induced myofibroblast transformation when fibroblasts are stimulated with pirfenidone and rapamycin.
The study concluded that findings shift a new paradigm into the potential of pirfenidone and rapamycin combination as a better anti-fibrotic approach and future treatment strategies.
For more reference log on to https://doi.org/10.1186/s12890-018-0626-4