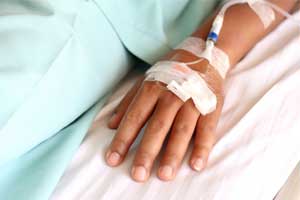 The use of piperacillin-tazobactam should be avoided as the definitive therapy for patients with certain multidrug-resistant bloodstream infections (BSIs), because of increased mortality risk. The combination therapy which is being investigated as a potential alternative to carbapenem was proven inferior to the carbapenem antibiotic meropenem, in a  large, international randomized trial.
Findings of the MERINO Trial, presented at the 28th annual European Congress of Clinical Microbiology and Infectious Disease (ECCMID), showed that the number of patients on piperacillin/tazobactam who died at the 30-day mark was more than three times the number who died in the meropenem arm.
Escherichia coli or Klebsiella pneumoniae may express extended-spectrum βlactamases (ESBLs) mediating resistance to third-generation cephalosporins (3GCs). Patrick Harris, University of Queensland, UQ Centre for Clinical Research, Brisbane, Australia, and colleagues conducted the study to investigate whether piperacillin-tazobactam is effective carbapenem-sparing therapy for BSI caused by these organisms.
The presenting author of the study called the results disappointing.
Piperacillin/tazobactam is a combination of a beta-lactam antibiotic and a beta-lactamase inhibitor used for treating serious infections caused by several species of gram-positive and gram-negative bacteria, including those that produce extended-spectrum beta-lactamases (ESBLs). It's also among a handful of beta-lactam/beta-lactamase inhibitors being considered as alternatives to carbapenems for infections caused by ESBL Enterobacteriaceae, which have become increasingly prevalent pathogens in hospitals in recent years and have limited treatment options.
While carbapenems are currently the best treatment option for these pathogens, the concern is that their overuse increases selection pressure for carbapenem resistance, potentially endangering one of the most important antibiotics remaining for multidrug-resistant infections. The question has been whether piperacillin/tazobactam can be as effective as carbapenems for treatment of infections caused by ESBL Enterobacteriaceae, which have shown susceptibility to the drug in lab tests.
"The idea was can we use this alternative drug as another option, instead of using carbapenems all the time?" Harris said in an ECCMID video interview posted on YouTube.
The trial included 378 patients from 32 sites in 9 countries, mostly from Singapore (40.6%), Australia (22.4%), and Turkey (12.1%). BSIs were most frequently healthcare-associated (56.4%), of urinary tract origin (60.9%), and caused by E coli (86.5%). The patients were randomized 1:1 to receive either meropenem or piperacillin/tazobactam within 72 hours of the initial blood culture.
The primary outcome of the trial was all-cause mortality at 30 days post-randomization, with a non-inferiority margin of 5%. Secondary outcomes included days to clinical and microbiological resolution and relapsed BSI and secondary infection with a piperacillin/tazobactam-resistant or meropenem-resistant organism or Clostridium difficile.
Harris explained that they chose 30-day mortality as the primary outcome because that is the ultimate outcome that physicians care about. "If you have a severe infection, you can measure all kinds of surrogate markers, but ultimately you want to know 'are you going to survive, or are you going to die?'" he said.
Key Results:
12.3% (23/187) of the patients randomized to piperacillin/tazobactam died at 30 days, compared to 3.7% (7/191) of the patients randomized to meropenem.
Analysis of the per-protocol population and patient sub-groups showed similar outcomes, with 30-day mortality significantly higher in the patients treated with piperacillin/tazobactam.
There were no significant differences in subsequent infection with resistant gram-negative organisms or C difficile between treatment arms.
The mortality risk associated with piperacillin/tazobactam was so significant that the trial had to be stopped early.
Harris said the outcome was disappointing since he and his colleagues were hoping that piperacillin/tazobactam would prove a suitable alternative to meropenem. But he added that the results highlight the importance of doing these type of randomized trials.
"We really need to try hard to seek these carbapenem-sparing alternatives, but test them in a very rigorous way, so that we don't fool ourselves by relying on data that can be biased or unreliable," he said.
"The use of piperacillin-tazobactam as definitive therapy for bloodstream infections caused by E. coli or K. pneumoniae with non-susceptibility to third-generation cephalosporins was inferior to meropenem and should be avoided in this context," concluded the authors.