Physiotherapy plus Steroid injection has better outcome in frozen shoulder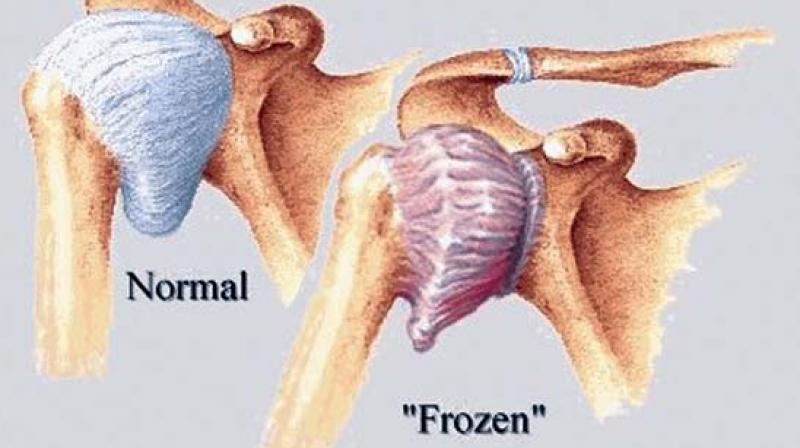 A new study published in the World Journal of Orthopedics reports that additional physiotherapy after corticosteroid injection improves range of motion (ROM) and functional limitations in early-stage frozen shoulder up to the first three months.
Tim Kraal et al. conducted a two centered, randomized controlled trial to investigate the additional value of physiotherapy after a corticosteroid injection in stage one or two idiopathic frozen shoulders (FSs).
Patients with a painful early-stage idiopathic FS were eligible for inclusion. All patients received an ultrasound-guided intra-articular corticosteroid injection. One group underwent additional physiotherapy treatment (PT) and the other group did not (non-PT). The primary outcome measure was the Shoulder Pain and Disability Index (SPADI). Secondary outcomes were the pain (numeric pain rating scale), the range of motion (ROM), quality of life (RAND-36 score), and patient satisfaction. Follow-up was scheduled after 6, 12 and 26 wks. Twenty-one patients were included, 11 patients in the non-PT and ten in the PT group, with a mean age of 52 years.
Read Also; Rare Case of Upper Arm Compartment Syndrome Following Biceps Tendon Rupture
Key study findings:


Both treatment groups showed a significant improvement at 26 wk for the SPADI score.


At the 6 wk follow-up, the median SPADI score was significantly decreased in the PT group vs the non-PT group.


Pain decreased significantly in both groups but no differences were observed between both treatment groups at any time point, except for night pain at 6 wk in favor of the PT group.


Significant differences in all three ROM directions were observed after 6 wk in favor of the PT group.


A significantly greater improvement in abduction and external rotation was also present in favor of the PT group after 12 wk.


RAND-36 scores showed no significant differences in health-related quality of life at all follow-up moments.


At 26 wk, both groups did not differ significantly with respect to any of the outcome parameters. No complications were reported in both groups.


Frozen shoulder (FS), a common cause of shoulder pain and disability which affects approximately 2% to 4% of the general population.
For reference log on to
10.5312/wjo.v9.i9.165
Source : With inputs from World Journal of Orthopedics