Phase 3 clinical trial confirms Lefamulin is non-inferior to moxifloxacin for pneumonia: JAMA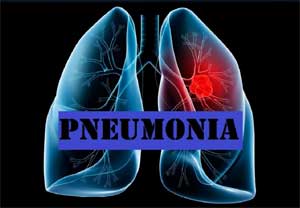 Oral lefamulin, a novel antibiotic is non-inferior to oral moxifloxacin for the treatment of community-acquired bacterial pneumonia (CABP) depict results of phase 3 clinical trial published in JAMA.
Pneumonia is among the most common causes of hospitalization and a leading cause of infectious death in the US. Patients who recover from pneumonia experience long-term mortality substantially higher than in age- and sex-matched controls, primarily due to comorbidities.
The researchers conducted the study to evaluate whether a 5-day oral lefamulin was noninferior to 7-day oral moxifloxacin in the management of community-acquired bacterial pneumonia. Lefamulin is a first-in-class, semi-synthetic pleuromutilin antibiotic designed to inhibit the synthesis of bacterial protein, which is required for bacterial growth. It's indicated for the treatment of CABP caused by the most common gram-positive and gram-negative bacteria associated with the disease, including Streptococcus pneumoniae, methicillin-susceptible Staphylococcus aureus, Mycoplasma pneumoniae, and Haemophilus influenzae.
The FDA had approved oral and intravenous (IV) lefamulin for the treatment of CABP in August based on the data from LEAP 2 and the previously published +LEAP 1 trial, in which 5 to 7 days of IV/oral lefamulin demonstrated non-inferiority to 7 days of IV/oral moxifloxacin with or without linezolid.
In the Lefamulin Evaluation Against Pneumonia (LEAP) 2 trial, a team led by researchers from drug sponsor Nabriva Therapeutics of Dublin conducted a phase 3, noninferiority randomized clinical trial conducted at 99 sites in 19 countries that included adults aged 18 years or older with a Pneumonia Outcomes Research Team (PORT) risk class of II, III, or IV; radiographically documented pneumonia; acute illness; 3 or more CABP symptoms; and 2 or more vital sign abnormalities. The first patient visit was on August 30, 2016, and patients were followed up for 30 days; the final follow-up visit was on January 2, 2018.
The FDA primary end point was early clinical response at 96 hours after the first dose of either study drug in the intention-to-treat (ITT) population. The secondary end points were investigator assessment of clinical response at test of cure in the modified ITT population and in the clinically evaluable population. The non-inferiority margin was 10%.
The early clinical response rates in the ITT population were 90.8% for the lefamulin group vs 90.8% for the moxifloxacin group (difference, 0.1 percentage points). Rates of investigator assessment of clinical response success were 87.5% with lefamulin and 89.1% with moxifloxacin in the modified ITT population (difference, –1.6 percentage points) and 89.7% and 93.6%, respectively, in the clinically evaluable population (difference, –3.9 percentage points) at test of cure.
The overall incidence of treatment-emergent adverse events was 32.6% with lefamulin and 25.0% with moxifloxacin, with gastrointestinal-related adverse events occurring in 17.9% of patients who received lefamulin and 7.6% of patients who received moxifloxacin. Most reported events were either mild or moderate in severity. The most common treatment-emergent adverse events were diarrhea (12.2%), nausea (5.2%), and vomiting (3.3%) in the lefamulin group and nausea (1.9%), headache (1.6%), and urinary tract infection (1.6%) in the moxifloxacin group.
In an accompanying editorial, the editorialist states that the cost is likely to be a barrier to lefamulin use. A press release from the manufacturer stated that the wholesale acquisition cost of lefamulin will be $205 per day for intravenous treatment and $275 per day for oral treatment. This is several-fold more than moxifloxacin or levofloxacin, which are the most commonly prescribed fluoroquinolones for CABP.
For further reference log on to:
doi:10.1001/jama.2019.15468
Source : Inputs from JAMA