................................ Advertisement ................................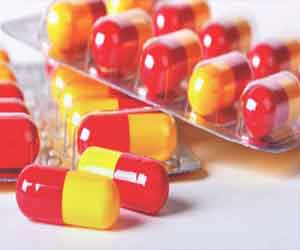 Sweden: Five-day treatment with penicillin V four times daily might be an alternative to the currently recommended 10-day regimen in patients with pharyngotonsillitis caused by group A streptococci, according to a recent study published in The BMJ journal.
According to the study, administration of Penicillin V  four times daily for 5 days was found to be non-inferior to penicillin V three times a day for 10 days in pharyngotonsillitis patients.
Pharyngotonsillitis is an inflammatory condition involving the pharyngeal wall. The condition is characterized by the presence of increased redness and the finding of an exudate, ulceration, or a membrane covering the tonsils.
................................ Advertisement ................................
Gunilla Skoog Stahlgre, The Public Health Agency of Sweden, Solna, Sweden, and colleagues determined whether total exposure to penicillin V can be reduced while maintaining adequate clinical efficacy when treating pharyngotonsillitis. 
This open-label randomised controlled non-inferiority study involved analysis 433 patients from across 17 primary healthcare centres in Sweden between September 2015 and February 2018. The patients were aged 6 years and over with pharyngotonsillitis caused by group A streptococci and three or four Centor criteria (fever ≥38.5°C, tender lymph nodes, coatings of the tonsils, and absence of cough). They were randomly allocated to penicillin V 800 mg four times daily for five days (total 16 g) (n=215) or to the current recommended dose of 1000 mg three times daily for 10 days (total 30 g) (n=218).
................................ Advertisement ................................
The primary outcome was clinical cure five to seven days after the end of antibiotic treatment.
Key findings include:
Clinical cure in the per-protocol population was 89.6% (n=181/202) in the five-day group and 93.3% (n=182/195) in the 10-day group.
Bacteriological eradication was 80.4% (n=156/194) in the five day group and 90.7% (n=165/182) in the 10 day group.
Eight and seven patients had relapses, no patients and four patients had complications, and six and 13 patients had new tonsillitis in the five day and 10-day groups, respectively.
Time to the relief of symptoms was shorter in the five-day group.
Adverse events were mainly diarrhoea, nausea, and vulvovaginal disorders; the 10-day group had a higher incidence and longer duration of adverse events.
Dr Kamal Kant Kohli-MBBS, DTCD- a chest specialist with more than 30 years of practice and a flair for writing clinical articles, Dr Kamal Kant Kohli joined Medical Dialogues as an Editor-in-Chief for the Speciality Medical Dialogues section. Besides writing articles, as an editor, he proofreads and verifies all the medical content published on Medical Dialogues including those coming from journals, studies,medical conferences,guidelines etc.
Before Joining Medical Dialogues, he has served at important positions in the medical industry in India including as the Hony. Secretary of the Delhi Medical Association as well as the chairman of Anti-Quackery Committee in Delhi and worked with other Medical Councils in India. Email: editorial@medicaldialogues.in. Contact no. 011-43720751
To know about our editorial team click here