Pharmacologic treatment of osteoporosis- Endocrine Society Guidelines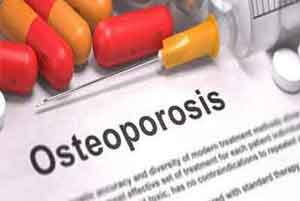 The Endocrine Society has released new guidelines on the pharmacologic treatment of osteoporosis in postmenopausal women. The guideline provides evidence for the benefits of treating postmenopausal women with osteoporosis. The recommendations cover the newest, most effective medication options and answer patient questions regarding the duration of therapy and monitoring. The guidelines have been published in the Journal of Clinical Endocrinology & Metabolism.
One in two postmenopausal women will break a bone due to osteoporosis in their lifetime, making them at high risk for subsequent fractures, yet many of these women do not receive treatment. With ongoing reports of atypical femoral fractures and osteonecrosis of the jaw, patients and providers are uncertain about the benefits and risks of treating osteoporosis. In fact, there has been a decline in the use of bisphosphonates and an increase in hip fractures among postmenopausal women.
"There is a considerable gap in the treatment of osteoporosis. Most women will not take anti-osteoporosis therapies despite their efficacy, and those that do often stop. As a result, the rate of hip fractures has levelled off and may be increasing. In addition, bone density screening has declined precipitously," said Clifford J. Rosen, M.D., director, Center for Clinical and Translational Research at the Maine Medical Center Research Institute in Scarborough. Rosen chaired the writing committee that developed the guideline.
"We hope our guideline will not only improve patient care but provide confidence in treatment," he said.
Key Recommendations are-


Postmenopausal women at high fracture risk, particularly patients with a recent fracture, should be treated with pharmacologic therapies. A review found that the benefits outweigh the risks.


Bisphosphonates (i.e., alendronate, risedronate, zoledronic acid, ibandronate) are recommended as the initial treatment as they reduce fracture risk.


At 3 to 5 years after starting bisphosphonates, fracture risk should be reassessed. Patients at low-to-moderate risk at this point may be considered for a bisphosphonate holiday.


Denosumab may be considered as an alternative to bisphosphonates as the initial treatment in high-risk post


At 3 to 5 years after starting bisphosphonates, fracture risk should be reassessed. Women who remain at high risk of fractures should continue therapy, while those who are at low-to-moderate risk of fractures should be considered for a "bisphosphonate holiday."


Endocrine Society now recommends anabolic treatments — teriparatide or abaloparatide (Tymlos, Radius Health) — as first-line therapy for patients with very severe osteoporosis, multiple fractures, and/or very low bone density.


All women taking osteoporosis therapies — except anabolics — should consume calcium and vitamin D in their diet or by taking supplements.


Monitoring of bone mineral density (BMD) for high-risk patients with low BMD should take place every 1 to 3 years,


How these Guidelines differ from ACPs' 2017 Guidelines-
In the introduction to the guidelines, the Endocrine Society panel points out some of the differences between these new guidelines and those issued by the American College of Physicians (ACP) in 2017 for treatment of low BMD or osteoporosis in women and men.
"Certain recommendations in those guidelines have raised new questions and generated much discussion, especially with regard to the duration of therapy and monitoring," the Endocrine Society document notes. For instance, the ACP recommends that women with osteoporosis should be treated with drug therapy for 5 years and recommends against monitoring their BMD during that period. No differentiation is made for the duration of therapy between bisphosphonates and denosumab, despite the different pharmacokinetic profiles of the two classes.
The ACP guidelines also don't include recommendations regarding use of abaloparatide, which was approved by the US Food and Drug Administration just prior to the release of those guidelines. And they don't advise the use of teriparatide for severely affected patients.
For Full Guidelines log on to :
Full guideline in the Journal of Clinical Endocrinology & Metabolism