PGI doctors report rare case of Spontaneous pneumothorax after pertussis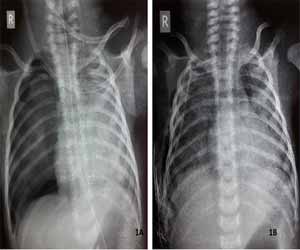 Dr Deepanjan Bhattacharya at Advanced Pediatrics Centre, Postgraduate Institute of Medical Education and Research, Chandigarh, India and colleagues have reported a case of Spontaneous pneumothorax in an infant as an unusual complication of pertussis.The case has appeared in BMJ Case Reports.
A 6-week-old girl presented with non-paroxysmal cough for 2 weeks, and rapid breathing for the past 5  days. It was associated with occasional post-tussive vomiting but not a fever or poor feeding.
On examination, she had tachypnoea with tracheal deviation to the left and decreased breath sounds on the right side of the chest, with hyper-resonance on percussion. Chest X-ray suggested right-sided pneumothorax with contralateral mediastinal shift (figure 1A). Blood gas analysis showed respiratory acidosis (pH 7.117, paCO2 58.4 mmHg, paO2 78.4mmHg). She was administered oxygen by nasal prongs, and an intercostal drainage tube (ICDT) was inserted in the right second intercostal space (figure 1B). Following this, there was improvement in the clnical status and acidosis (pH 7.367, paCO2 36.7, paO2 116.7).
Haemogram showed leucocytosis (total leucocyte count: 55.34×109/L), and normal renal and liver function tests. Blood culture was sterile. PCR of the nasopharyngeal swab was positive for Bordetella pertussis, and oral azithromycin was given for 5 days. ICDT was removed by day 4 of hospitalization, and she was taken off oxygen by day 7. Repeat chest X-ray showed resolution of pneumothorax, and she was discharged in haemodynamically stable condition.
Pertussis or whooping cough is caused by B. pertussis and is often a severe illness in infancy. It is usually characterized by a cough of more than 2 weeks' duration, which is usually paroxysmal with post-tussive vomiting. In infants, less than 3 months of age, apnoea, and cyanosis may be additional features.
Rhinehart reported a 34-year-old woman with pertussis with features of right-sided pneumothorax on clinical examination, confirmed on skiagraphy. It was concluded that it was a spontaneous rupture of a pre-existing pleural bleb of the right lung secondary to strain during paroxysmal coughing. Nicolai et al analysed 19 infants with PCR-positive pertussis (median age 72 days), of whom (15.8%) had respiratory complications in the form of pneumothorax.
Pneumothorax is a rarely reported complication of pertussis and is usually secondary to increased intrathoracic pressure during paroxysmal coughing. In our case, there were subtle clues, such as prolonged cough for more than 2 weeks and leucocytosis, and pertussis was confirmed by PCR.
For more details click on the link:
http://dx.doi.org/10.1136/bcr-2019-231878