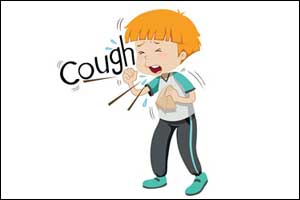 The American College of Chest Physicians (CHEST) have released their latest Guidelines on Pertussis-associated Cough in Adults and Children which have appeared in its official Journal Chest.
Pertussis (whooping cough), caused by Bordetella pertussis, is a highly contagious respiratory tract infection that can be associated with significant morbidity and mortality, particularly in young infants.Various terms used in guidelines have been defined below-
A Paroxysmal cough is defined as recurrent prolonged coughing episodes (ie, an expiratory phase with multiple bursts of outflow) with an inability to breathe during spells.
Posttussive vomiting is defined as vomiting induced by coughing.
Inspiratory whooping is defined as a continuous inspiratory airway sound with a whooping quality to it.
Fever is defined as any body temperature above the normal of 98.6°F (37°C).
Following are the major Recommendations:
1. For adult patients complaining of an acute cough (< 3 weeks in duration) or subacute cough (3-8 weeks), we suggest that clinicians should specifically assess for the 4 key characteristics of a paroxysmal cough, post-tussive vomiting, inspiratory whooping, and absence of fever in ruling in or out a clinical diagnosis of pertussis. (Grade 2C)
2. For adult patients complaining of an acute or a subacute cough, we suggest that clinicians consider that a cough is unlikely to be due to pertussis if the patient has a fever or a cough is not paroxysmal in nature. (Grade 2C)
3. For adult patients complaining of an acute or a subacute cough, we suggest that clinicians consider that a cough is likely to be caused by pertussis if there is posttussive vomiting or is associated with an inspiratory whooping sound. (Grade 2C)
4. For children complaining of an acute cough (< 4 weeks in duration), we suggest that clinicians should specifically assess for the 3 classical characteristics of a paroxysmal cough, posttussive vomiting, and inspiratory whooping. (Ungraded consensus-based statement)
5. For children complaining of an acute cough, we suggest that clinicians consider that a cough could be caused by pertussis if there is posttussive vomiting. (Grade 2C)

6. For children complaining of an acute cough, we suggest that clinicians consider that a cough could be caused by pertussis if there is a paroxysmal cough or inspiratory whooping. (Ungraded consensus-based statement)
For more details click on the link: DOI: https://doi.org/10.1016/j.chest.2018.09.027