Perindopril, Indapamide Combo may offer rapid blood pressure control in High BP patients: JAPI Study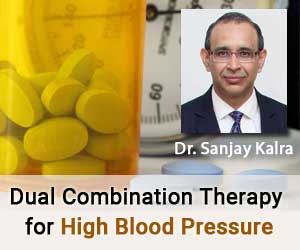 New Delhi: Use of Perindopril / Indapamide as a single pill combination (SPC) may offer rapid blood pressure (BP) control in patients with moderate to high BP, revealed a study published in the Journal of Associations of Physician of India (JAPI).
Hypertension is one of the major contributors to cardiovascular risks such as stroke, heart attack, and kidney failure. Treating high blood pressure may reduce these risks as well as boost the life expectancy of the patients. Commenting on this, the lead author of the study, Dr Sanjay Kalra, Consultant Endocrinologist at Bharti Research Institute of Diabetes and Endocrinology said "Hypertension is a commonly encountered disorder, with at least 100 million Indians living with the disease. Management of blood pressure leads to better long term vascular outcomes. At the same time, overzealous lowering of blood pressure may be associated with adverse health."
When patients with high blood pressure do not achieve adequate control of their blood pressure, the options to try and achieve required treatment goals are to increase the dose of monotherapy (which increases the risk of side effects) or to use drug combinations with minimum side effects. The 2018 European Society of Cardiology/European Society of Hypertension guidelines has recommended that high blood pressure patients should begin with dual combination therapy instead of monotherapy.
Taking a cue from the guideline, Sanjay Kalra and colleagues conducted a study to evaluate the efficacy two-drug therapy on blood pressure reduction and acceptability of the single-pill combination of Perindopril/Indapamide in patients with moderate to severe hypertension.
Explaining the advantage of dual combination therapy Dr Kalra said "Modern guidelines suggest the use of dual combination therapy to control very high blood pressure. The availability of fixed-dose combinations has made such therapy more convenient. One such preparation is the co-formulation of an ACEi and thiazide-like diuretic, perinolopril+indapamide."
Dr Kalra and his team conducted a multicentre, prospective, observational study in which patients with moderate to severe hypertension were prescribed Perindopril 4mg/Indapamide 1.25 mg for 90 days. The primary outcomes considered for the evaluation were blood pressure decrease and achievement of BP control. Patients were up-titrated to Perindopril 8 mg/Indapamide 2.5 mg SPC if target BP control (≤140/90 mm Hg) could not be achieved by day 30. The study enrolled 173 hypertensive patients, with a mean age of 51 years at 3 centers from different geographic areas within India.
Dr Kalra said "The current study has assessed the utility, safety, and tolerability of a perindopril indapamide combination in adults with uncontrolled hypertension across India. The combination was able to reduce systolic and diastolic blood pressures significantly while achieving the target in over 90% participants. Adverse events were few, and none required the withdrawal of study drug. The broad inclusion criteria allowed recruitment of participants with well-controlled diabetes, dyslipidemia, hypothyroidism, and heart disease: perindopril indapamide was effective in these situations as well."
Key findings of the study were as follows


The SPC of Perindopril/Indapamide was effective in more than 90% of the patients recruited in the study.


A significant fall in the mean Systolic BP/Diastolic BP was observed from baseline (155.70 (±10.39) / 95.72 (±6.99) mmHg) over 90 days


Over 127 patients achieved blood pressure control after 90 days.


Few side effects were reported during the 90-day period.


Summing up the findings of the study Dr. Kalra said "Perindopril indapamide, in studies such as ADVANCE ON, has been demonstrated to provide long term vascular benefits, which we term 'vascular legacy' or 'vascular karma'. Based upon our results, we support the use of perindopril indapamide in adults with hypertension."
The results of the study made the authors conclude that that dual drug therapy with Perindopril/Indapamide can be an effective and well-tolerated antihypertensive therapy for rapid BP control in patients with moderate to severe hypertension.
To read the full study, check out the following link
Evaluation of Clinical Acceptability of Perindopril / Indapamide Single-pill Combination in Moderate to Severe Hypertension. Sanjay Kalra1, Aravind Sosale2, Siddharth N Shah3, Georges Jabre4, Sofi Joseph4*, Manjusha Rajarshi4