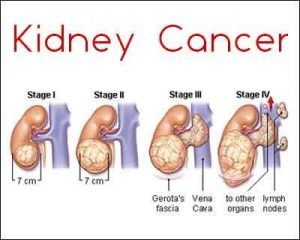 Patients with early-stage kidney cancer having smaller tumors (<4 cm) may be treated with percutaneous ablation and need not have to undergo surgery, according to a study published in the journal Annals of Internal Medicine.
Stage T1a renal cell carcinoma (RCC) (tumors <4 cm) is usually curable. Nephron-sparing partial nephrectomy (PN) has replaced radical nephrectomy (RN) as the standard of care for these tumors. Radical nephrectomy remains the first alternative treatment option, whereas percutaneous ablation (PA), a newer, nonsurgical treatment, is recommended less strongly because of lack of comparative PA data.
Adam D.Talenfeld et al conducted a study to assess percutaneous ablation, PN, and RN outcomes. The observational cohort analysis study included people aged 66 years or older who received treatment for T1a RCC.
The major outcome was RCC-specific and overall survival, 30- and 365-day postintervention complications.
The study which included 4310 patients were followed for a median of 52 months for overall survival and 42 months for RCC-specific survival.
The study found that:
After PA versus PN, the 5-year RCC-specific survival rate was 95% versus 98%
After PA versus RN, the 5-year RCC-specific survival rate was 96% versus 95%
After PA versus PN, the 5-year overall survival rate was 77% versus 86%
After PA versus RN, the 5-year overall survival rate was 74% versus 75%.
Cumulative rates of renal insufficiency 31 to 365 days after PA, PN, and RN were 11 %, 9 %, and 18% respectively.
Rates of neurologic complications within 30 days after PA, PN, and RN were 6%, 29%, and 30% respectively.
Ten percent of patients in the PN group had an intraoperative conversion to RN.
Seven percent of patients in the percutaneous ablation group received additional PA within 1 year of treatment.
Read Also: Treatment of atrial fibrillation with ablation reduces death, stroke risk
The study concluded that for well-selected older adults with T1a RCC, PA may result in oncologic outcomes similar to those of RN, but with less long-term renal insufficiency and markedly fewer periprocedural complications. Compared with PN, PA may be associated with slightly shorter RCC-specific survival but fewer periprocedural complications.
For more reference log on to
http://annals.org/aim/article-abstract/2686095/percutaneous-ablation-versus-partial-radical-nephrectomy-t1a-renal-cancer-population
The following two tabs change content below.
Vinay Singh
Vinay Singh joined Medical Dialogue as Desk Editor in 2018. He covers the medical speciality news in different medical categories including Medical guidelines, updates from Medical Journals and Case Reports. He completed his graduation in Biotechnology from AAIDU and did his MBA from IILM Gurgaon. He can be contacted at editorial@medicaldialogues.in . Contact no. 011-43720751
Latest posts by Vinay Singh (see all)