People with Liver Cirrhosis at increased risk for Fracture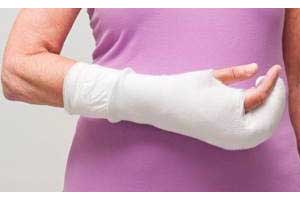 China: Patients with liver cirrhosis (LC) are at increased risk of fracture, suggests results from a recent review.
"To the best of our knowledge, this is the first systematic review to explore the association between LC and fracture risks," researchers report in the journal Clinical Endocrinology.
Liver cirrhosis was associated with an increased risk of osteoporosis, however, there is no certain data on the association between LC and fracture risk. Fractures may lead to functional impairment, decreases in quality of life and death.
Therefore, Ming Bao, Nanfang Hospital, Southern Medical University, Guangzhou, China, and colleagues conducted the study to explore the association between LC and fracture risk.
For the purpose, the researchers identified related literature and performed a systematic search of PubMed, EMBASE, Web of science and the Cochrane Library from 1965 to July 2017 without language limitation. The random-effects model described by DerSimonian and Laird was used to calculate pooled odds ratios (ORs) and 95% confidence intervals (CIs).
Eventually, 5 cohort and 3 case-control studies were identified, which included 321 035 subjects and 31 272 fracture cases.
Also Read: Coffee reduces risk of liver cirrhosis up to 70 percent : Study
Key Findings:


LC is associated with 1.88-fold higher risk for any fracture.


The relative risk of hip fracture, spine/trunk fracture or limb fracture is 2.11, 2.00 and 1.82 times higher in hepatic cirrhotic patients, respectively.


There are several explanations for the increased risk of fracture in cirrhotic patients.
"Osteoporosis is an important determinant for fracture. Hyperbilirubinaemia, corticosteroid use, physical inactivity, malnutrition, alcohol intake, and impaired vitamin D absorption (resulting from cholestasis) may disturb bone mineralization in cirrhotic patients, leading to osteoporosis. IGF-1 plays a key role in the process of bone remodeling and maintenance of bone mass, thus the reduced level of IGF-1 in cirrhotic patients may account for osteoporosis," explain the authors.
"Additionally, cognitive impairment and psychiatric illness may account for increased fracture risk in cirrhotic patients." the add.
The study emphasizes the need for an institution of preventive measures for cirrhotic patients as early as possible.
Source : With inputs from Clinical Endocrinology