People with diabetes at increased risk for restrictive lung disease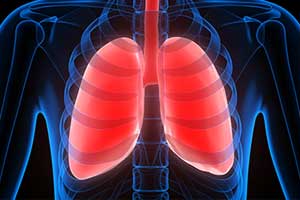 People with type 2 diabetes (T2D) are at increased risk of developing breathlessness and conditions of restrictive lung disease (RLD), such as pulmonary fibrosis, according to a new study published in the journal Respiration.
Stefan Kopf, University Hospital of Heidelberg, Heidelberg, Germany, and colleagues conducted the study to investigate the incidence of RLD and interstitial lung disease (ILD) in patients with prediabetes and T2D.
Interstitial lung disease (ILD) is the term for a heterogeneous group of different lung diseases affecting the interstitial tissue of the lung (interstitium) and the alveoli.
In restrictive lung disease, lung expansion is restricted. It is a category of conditions that includes pulmonary fibrosis.
One in four patients in outpatient treatment settings suffers from breathlessness. Acute and chronic lung diseases are usually the main causes. Studies show that many people with ILD also suffer from T2D.
Read Also: Early onset of Type 2 diabetes increases death risk due to CVD and stroke
For the study, the research team analyzed data from 110 patients with long-term T2D, 29 patients with newly diagnosed T2D, 68 patients with pre-diabetes and 48 non-diabetic patients, who were the controls. The study participants were examined for metabolic control, diabetes-related complications, breathlessness, and lung function.
Key Findings:


People with T2D are significantly more likely to suffer from breathlessness and RLD than the control group.


RLD was found in 27% of patients with long-term T2D, in 20% of patients with newly diagnosed diabetes, and in 9% of patients with pre-diabetes.


Patients with pronounced symptoms and RLD also showed CT-morphologically a fibrosating interstitial lung disease.


There were also differences in the morphological analysis of the lung tissue of subjects with and without T2D.


Patients with diabetes had increased pulmonary fibrosis.


RLD is associated with albuminuria (elevation of urinary albumin). This may be an indication that lung disease and kidney disease may be associated with diabetic kidney disease (nephropathy).


"Increased breathlessness, RLD, and interstitial lung anomalies can be associated with type 2 diabetes," said Kopf. "In this study, the prevalence of RLD was 20 to 27 percent in patients with diabetes. Moreover, the radiological and histological analyses suggest an association with fibrosing interstitial lung anomalies," added Professor Hans-Ulrich Kauczor, MD, Medical Director of Diagnostic and Interventional Radiology at University Hospital Heidelberg.
"This study demonstrates increased breathlessness and a high prevalence of RLD in patients with T2D, indicating an association between diabetes and fibrosing ILD," concluded the authors.
For further information log on to
https://doi.org/10.1159/000488909
Source : With inputs from Respiration