................................ Advertisement ................................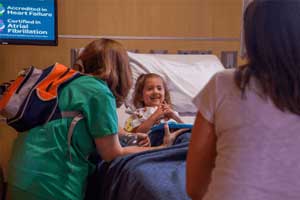 The American Academy of Pediatrics (AAP), American College of Emergency Physicians (ACEP) and Emergency Nurses Association (ENA) have released updated recommendations on pediatric readiness in the emergency department (ED).
This policy statement, published in the journal Pediatrics is intended to serve as a resource for clinical and administrative leadership in EDs as they strive to improve their readiness for children of all ages.
The utilization of a physician and nurse pediatric emergency care coordinator (PECC) is strongly connected with improved readiness.
................................ Advertisement ................................
Key Recommendations:
................................ Advertisement ................................
The physician and nurse PECCs should promote acceptable skills, help develop quality improvement plans, review policies, and help facilitate the integration of pediatric needs in disaster preparedness plans.
Competency evaluations for all ED clinical staff should include training in areas such as assessment and treatment, medication administration and delivery, airway management and vascular access procedures, device and equipment safety, resuscitation procedures, trauma management, and disaster drills.
Age-specific policies, procedures, and protocols for emergency care of children should be implemented, such as the following:

Disaster drills once every 2 years that include pediatric mass casualty considerations
Availability of medications
Abuse
Children with special health care needs
Physical or chemical restraint of patients
Social and behavioral health issues
Consent
Sedation and analgesia
Immunization management
Triage

Pediatric patient care should reflect an understanding of unique pediatric patient safety concerns, such as weighing children in kilograms and recording and reassessing a full set of vital signs.
Processes for safe medication practices should be established, such as the following:

Use precalculated dosing guidelines.
Apply caution for all administered or prescribed medications and consider developing standardized order sets for high-risk medications (eg, opioids and antibiotics).
An independent 2-provider cross-check process should be utilized for high-alert medications.
Use a standard formulary for pediatric high-risk and commonly used medications.
Reduce the size of available concentrations to the smallest number possible.

The radiology department should have the equipment and skills to provide imaging studies of children and age- and size-specific practices to reduce radiation exposure.
The laboratory should have the means to perform laboratory tests for children, which includes having available microtechnology for small or limited sample sizes.
Pediatric equipment, supplies, and medications should be easily accessible, labeled, and organized (eg, kilogram weight, weight-based color coding).
"Recognition of the unique needs of children who are ill and/or injured and served by an emergency care facility, including children with special health care needs; the commitment to better meet those needs through the adoption of these recommendations; and an ongoing commitment to evaluate care quality and safety and maintain pediatric competencies should provide a strong foundation for pediatric emergency care," concluded the authors.
For further reference follow the link: https://doi.org/10.1542/peds.2018-2459
Medha Baranwal joined Medical Dialogues as an Editor in 2018 for Speciality Medical Dialogues. She covers several medical specialties including Cardiac Sciences, Dentistry, Diabetes and Endo, Diagnostics, ENT, Gastroenterology, Neurosciences, and Radiology. She has completed her Bachelors in Biomedical Sciences from DU and then pursued Masters in Biotechnology from Amity University. She has a working experience of 5 years in the field of medical research writing, scientific writing, content writing, and content management. She can be contacted at medha@medicaldialogues.in. Contact no. 011-43720751
To know about our editorial team click here